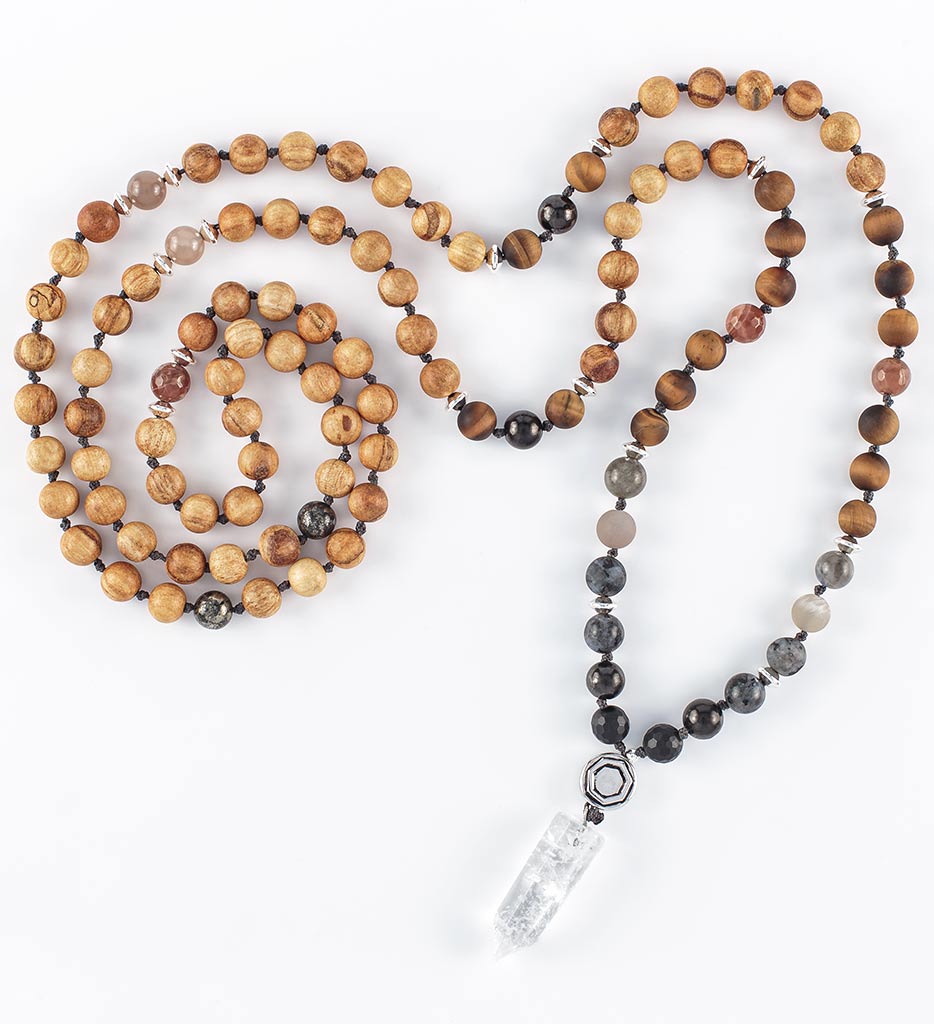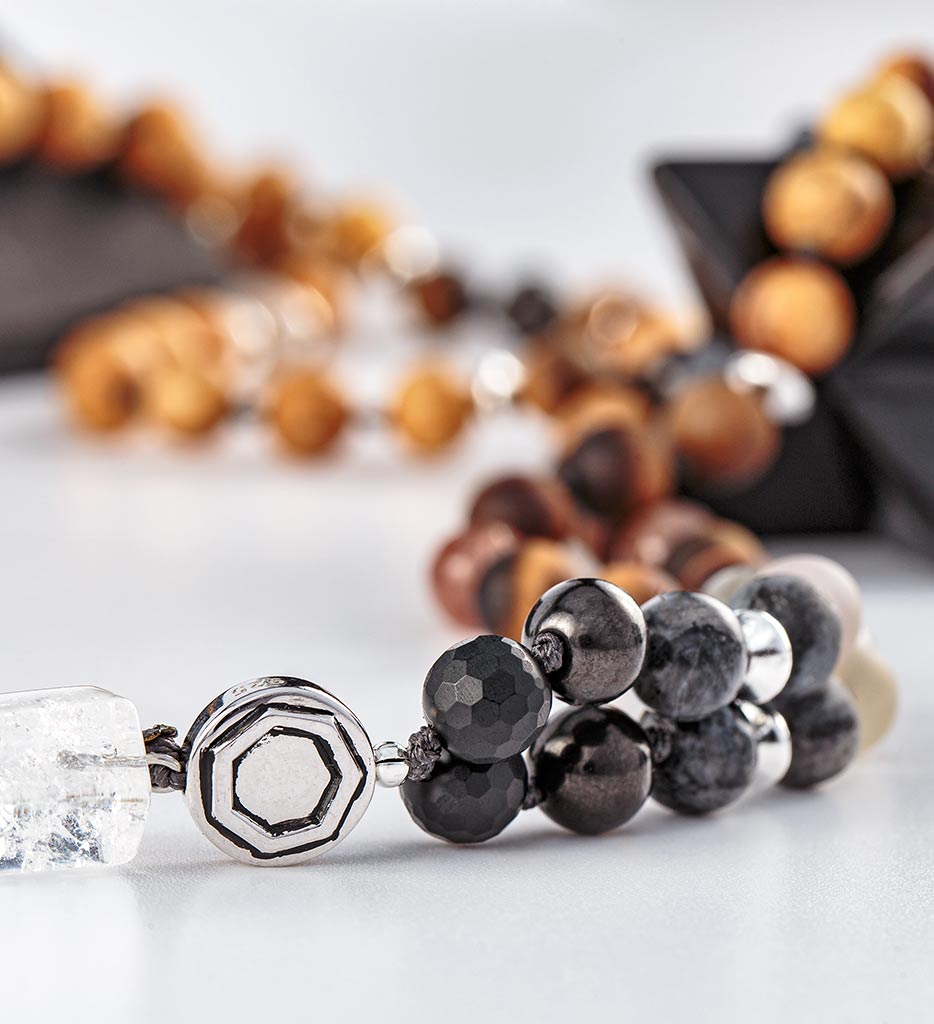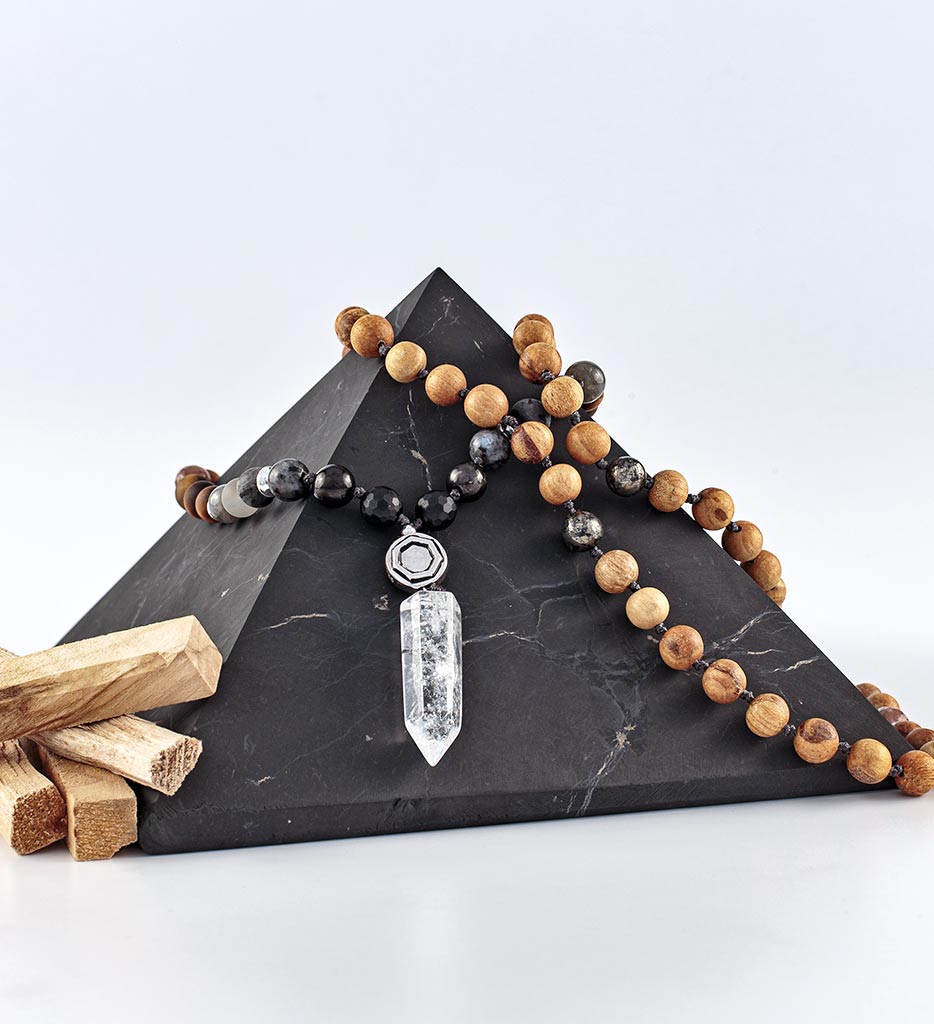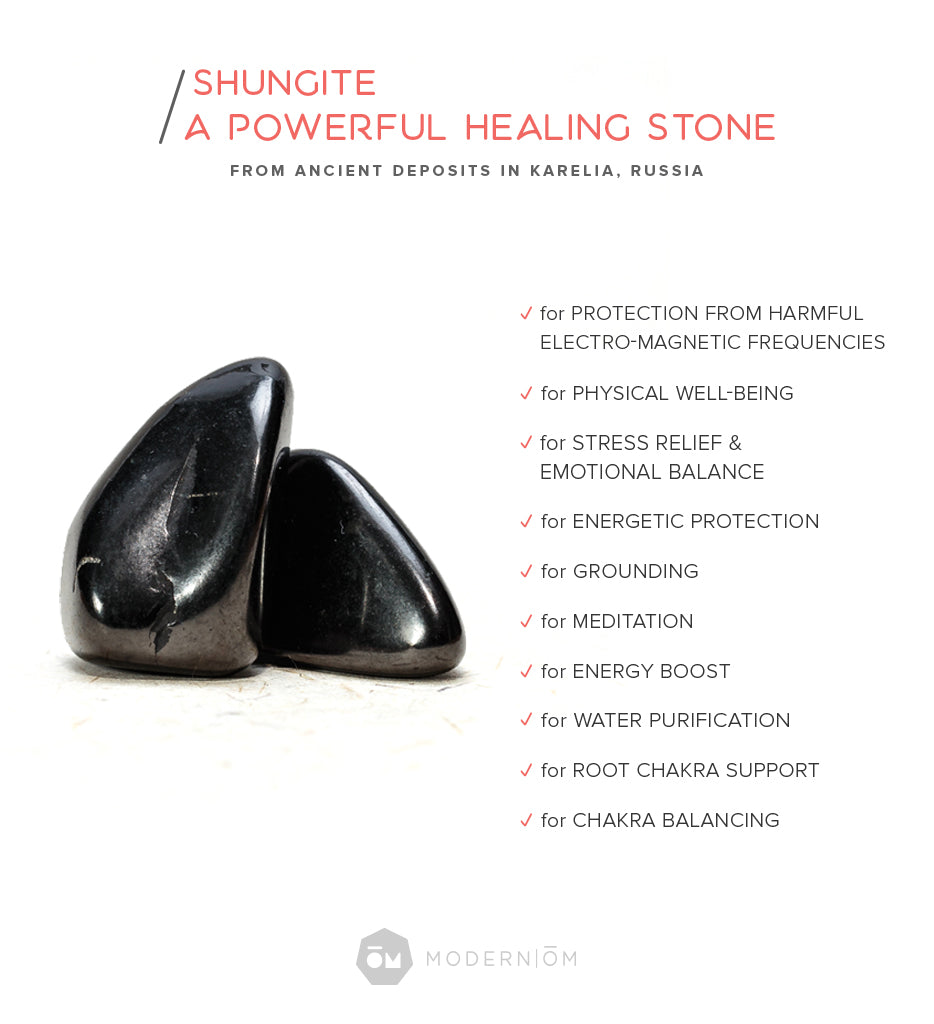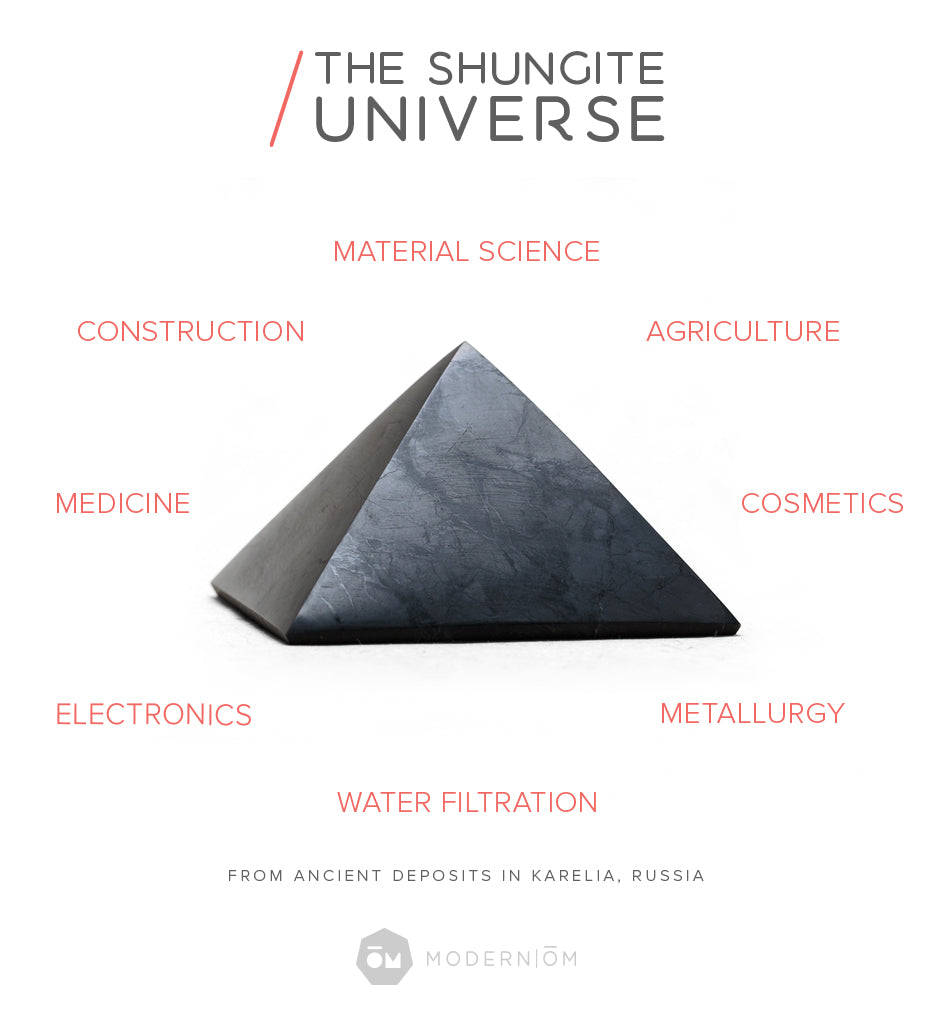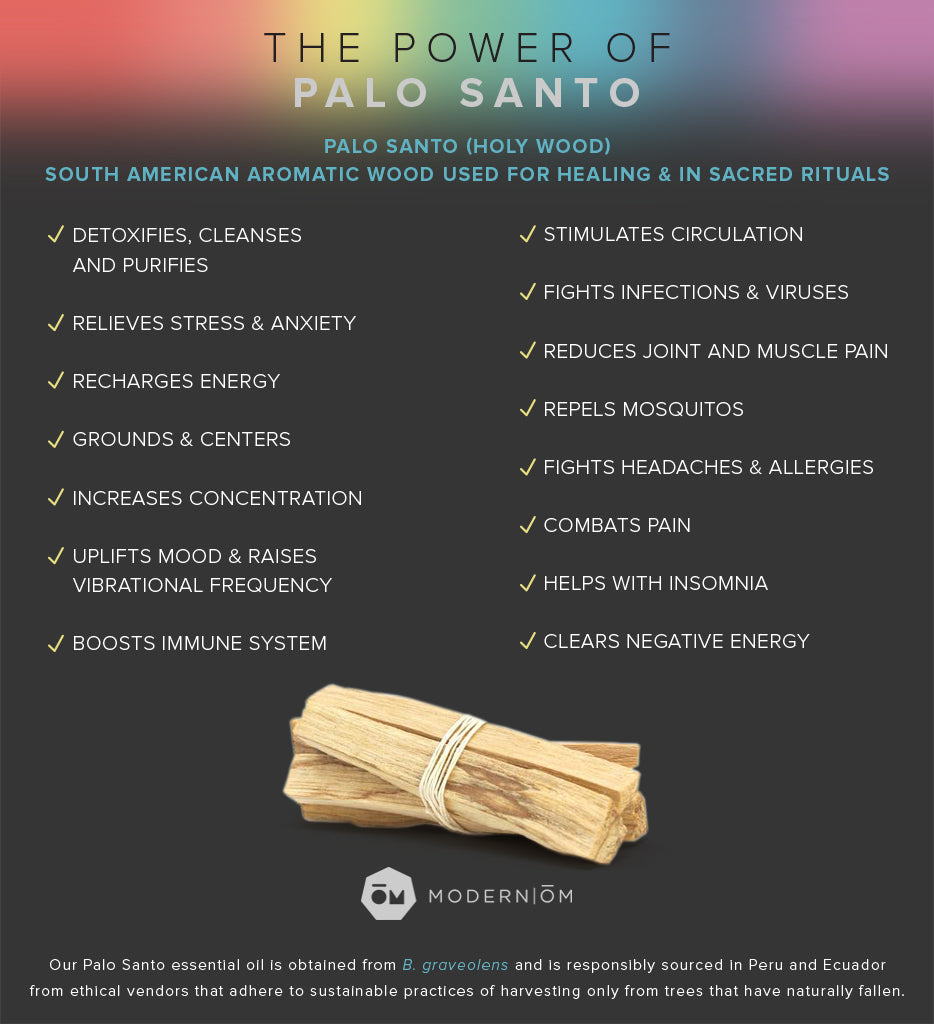 This 108-bead traditional mala carries the energies of the 1st, Chakra, VITALITY, 3rd Chakra, PURPOSE, and 6th Chakra, INSIGHT. It will remind you of your intention to be strong and healthy, focused and determined yet stay balanced and in harmony with the world.
Palo Santo wood is believed to protect, bring peace and clarity of mind.  It uplifts your mood and raises your vibration. And, it has a fantastic smell reminiscent of citrus and its close relative frankincense.
Our Sterling Silver Septagon bead will serve as your talisman.  It carries the strong frequencies of the Number 7 - transformation, growth & protection.
Learn more about SHUNGITE here, and about SHUNGITE's EMF properties here.
DETAILS
8mm Palo Santo, Shungite, Tiger Eye, Moonstone, Labradorite, Pyrite, Obsidian, Clear Quartz

108 beads, 21.5"- 22" long without the pendant
Clear Quartz pendant approx. 1.5"
Sterling Silver ŌM bead & spacers
Hand-crafted in North Carolina

Comes in our Signature Gift Packaging
Includes corresponding stones & woods cards
ENERGETIC PROPERTIES

Palo Santo - energetic protection, cleansing, rejuvenation
Shungite - EMF protection, detox, energy amplifier
Tiger Eye - focus, problem resolution, courage, success
Moonstone - feminine wisdom, intuition, harmony, love

Labradorite - faith, imagination, new ideas, memory

Pyrite - willpower, motivation, optimism
Black Obsidian - stamina, inner strength, grounding
Clear Quartz - "Master Healer", amplifies the effect of other crystals, clears, balances and re-energizes all chakras
Sterling Silver - creativity, emotional intelligence, calmness, reflection
MATERIALS & AUTHENTICITY

Palo Santo, or Holy Wood, is a natural aromatic wood praised for its energetically cleansing and healing properties. It has been used for centuries by the Incas and indigenous people of the Andes in sacred ceremonies. 
We respect the sacredness of Palo Santo and the environment. Our Palo Santo essential oil and smudging sticks are obtained from B. graveolens and are responsibly sourced in Peru and Ecuador from ethical vendors we trust. They respect the spirit of the tree and adhere to sustainable practices of harvesting only from trees that have naturally fallen.
All our Shungite is sourced directly from Karelia, Russia and is tested for authenticity.
Our jewelry is made with genuine and unaltered natural stones, that may vary in colors.
Mala Care: Wearing your mala when swimming or bathing might damage it. To clean your mala, gently wipe the beads with a damp cloth and place them in the shade to dry.