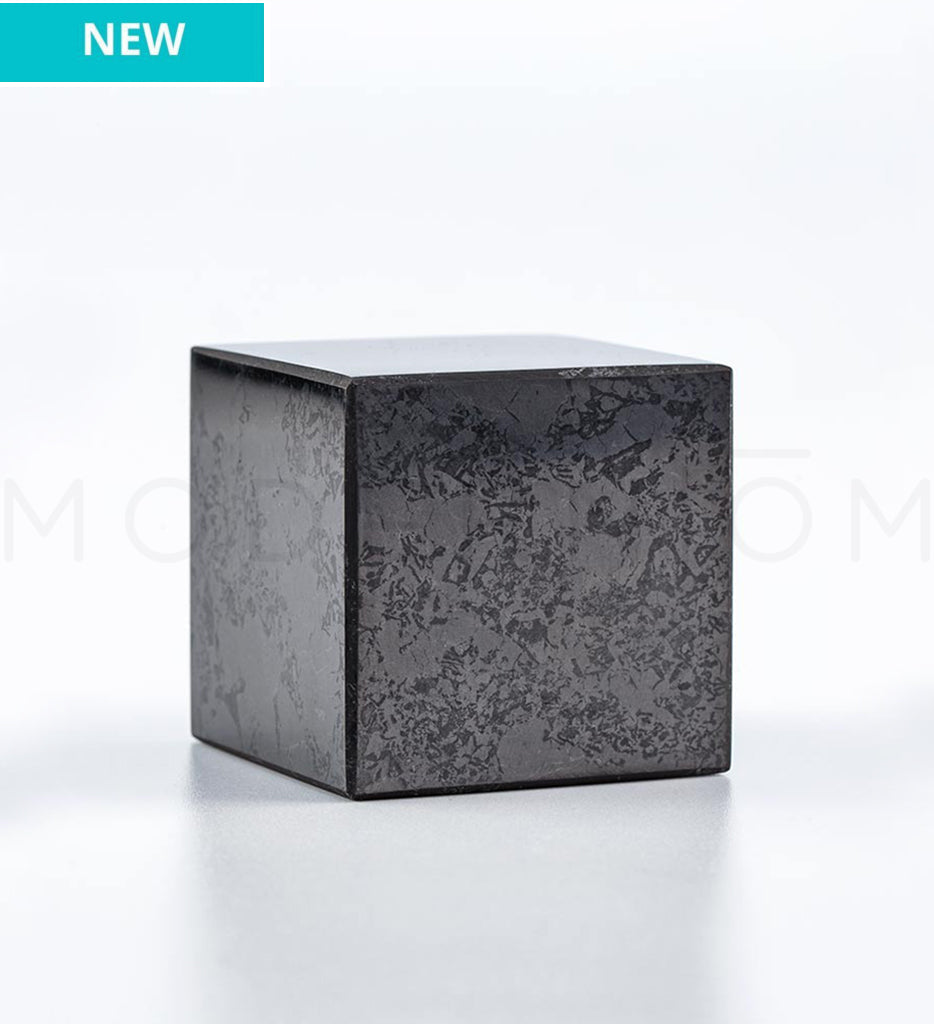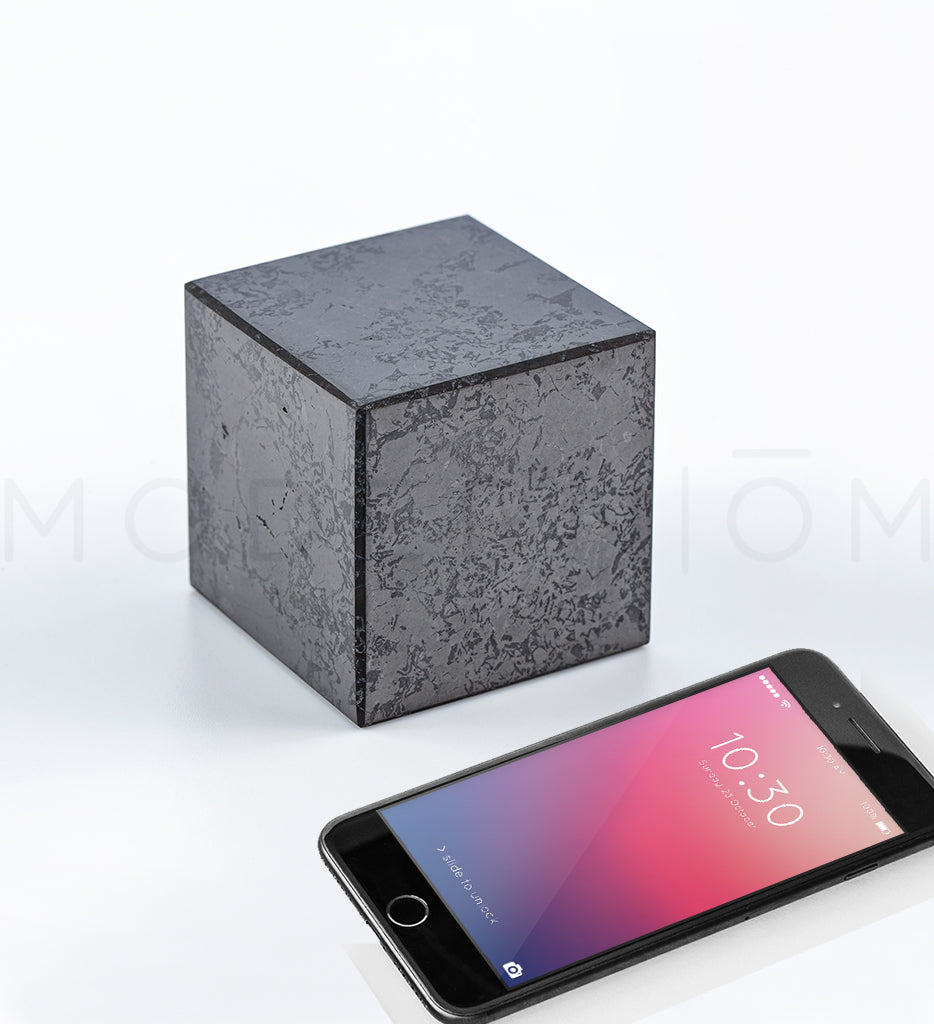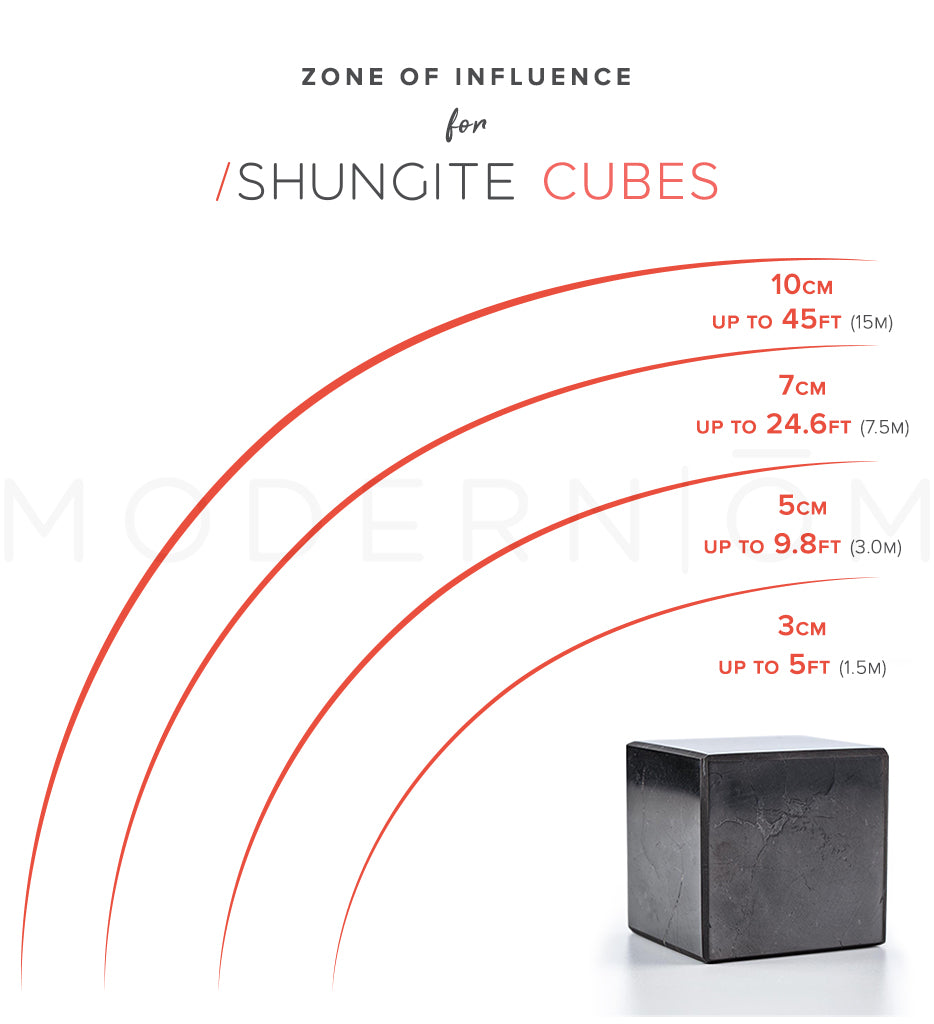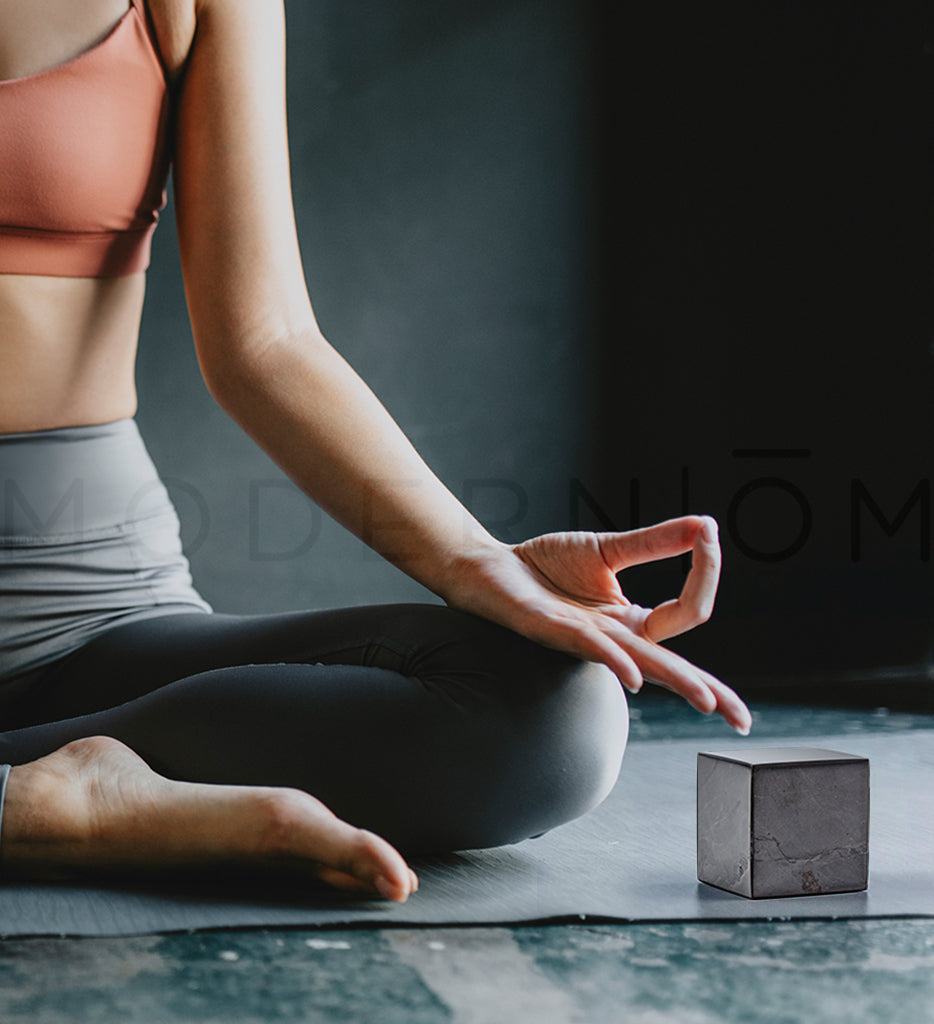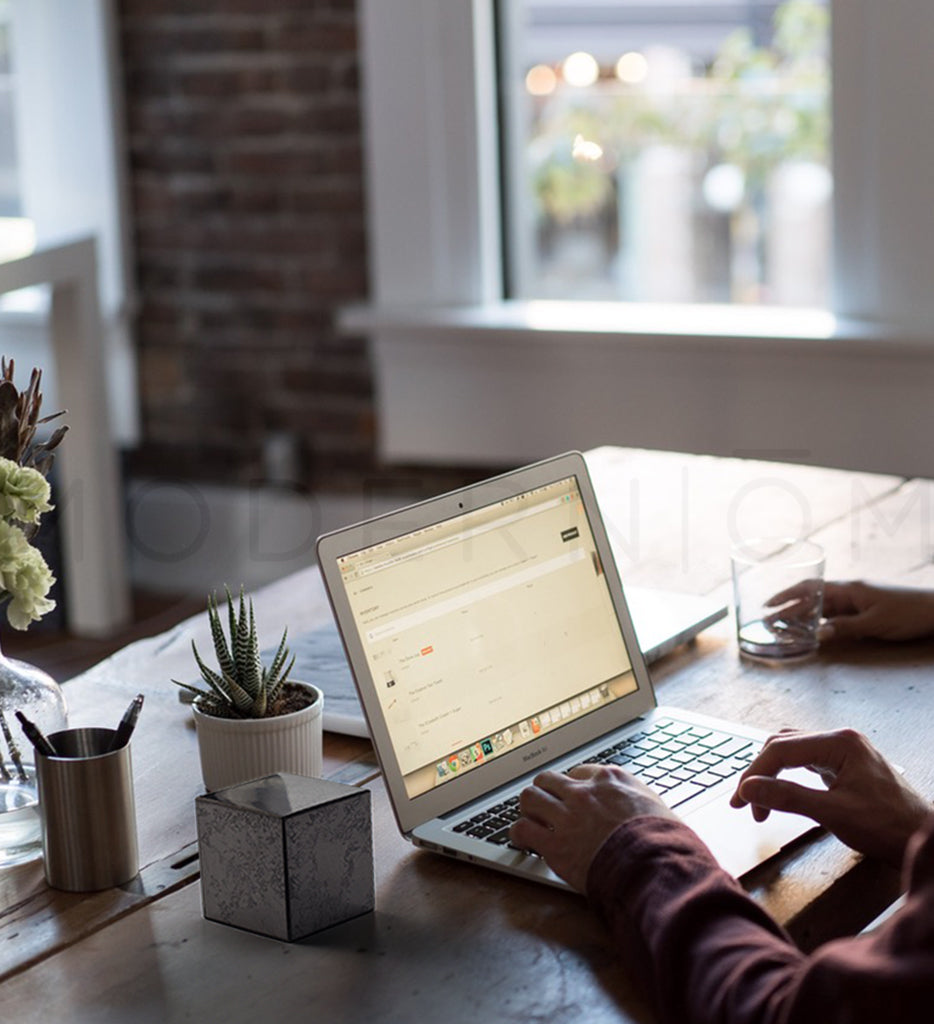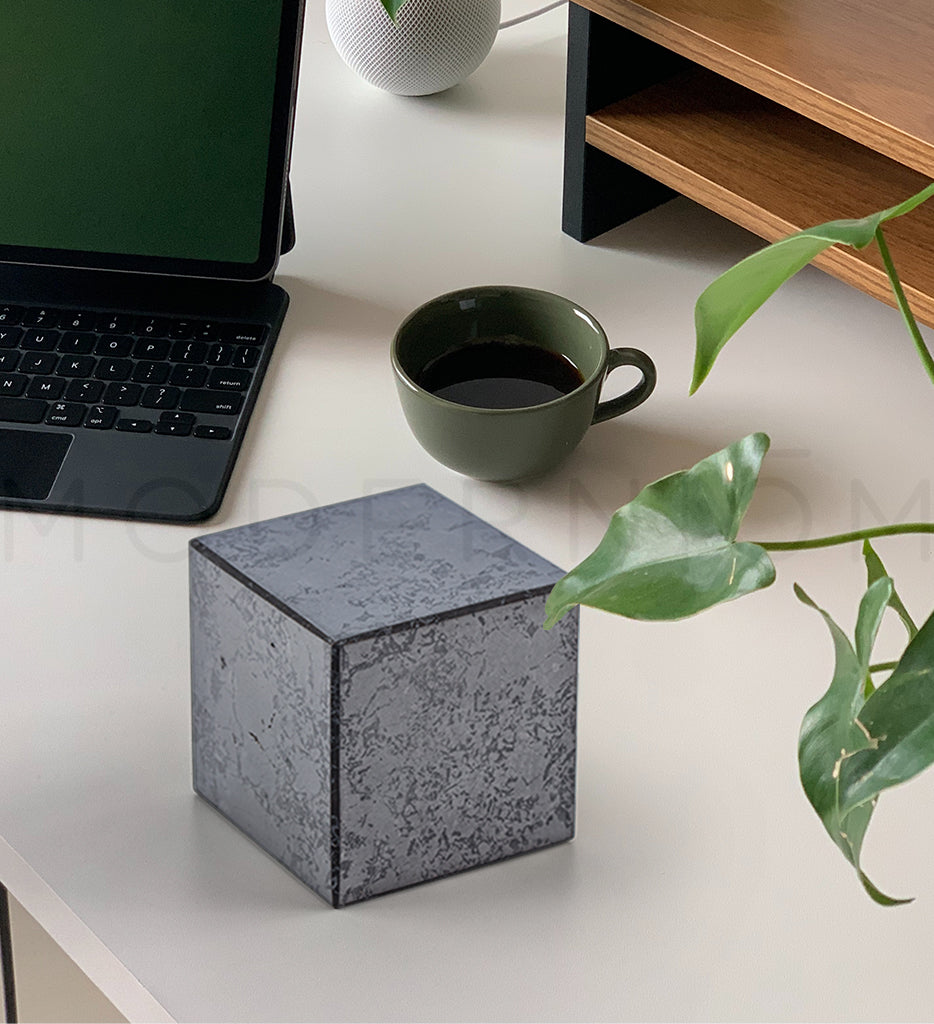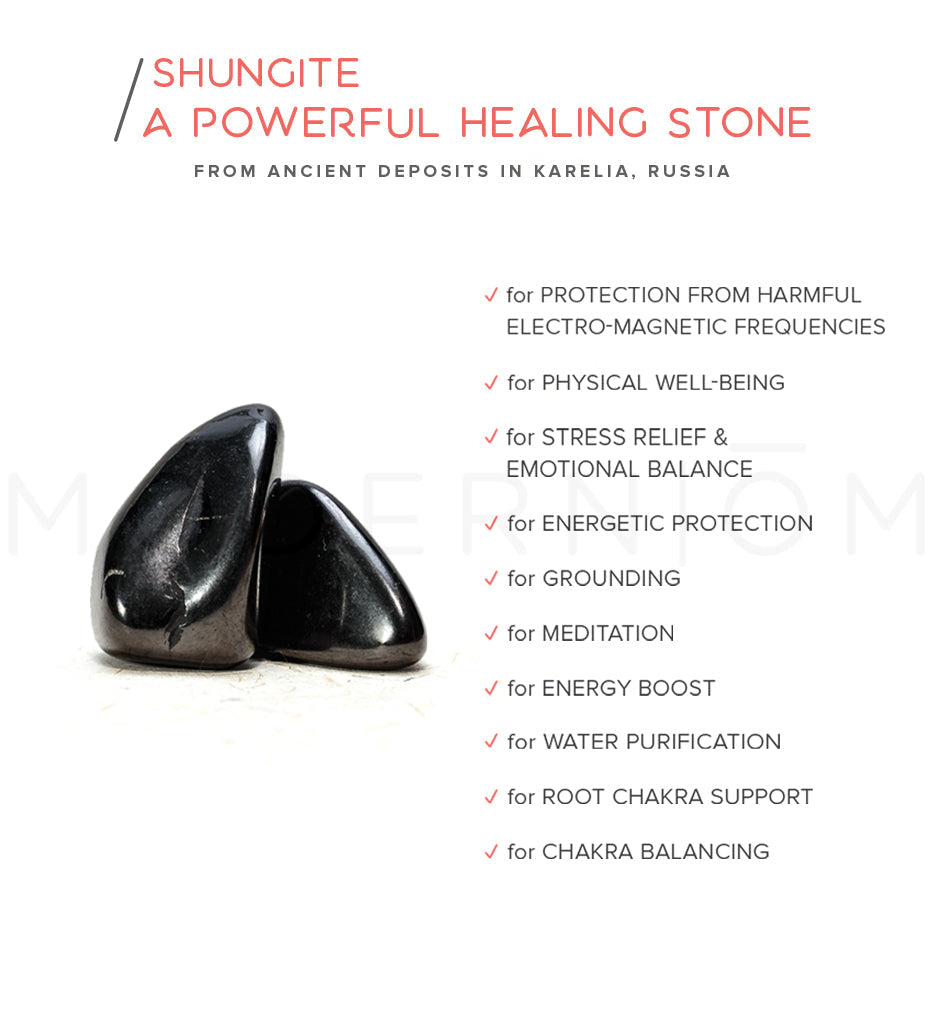 PROTECTION - STABILITY - PROSPERITY
"Shungite material actively interacts with electromagnetic fields of different natures (anthropogenic, high frequency, solar, geo-biogenic, biofields) and counteracts their negative influence."
RUSSIAN ACADEMY OF SCIENCES, Karelian Scientific Center Institute of Geology
Hand-cut and rare our large 10cm Cube is big and heavy (5.2 lbs) and carries powerful restorative energies of grounding and relaxation. It also strengthens chakras and offers a strong protection from EMFs and other types of negative energies.
While the Cube appears to be one of the simplest geometric shapes, it has amazing energetic characteristics. This form is found in many natural formations including Pyrite, Fluorites, Salt. Many crystals are even artificially shaped into Cube form to utilize Cube's potent energies.
The Cube (Hexahedron) is associated with the Earth element and corresponds to the 1st Chakra, VITALITY. Firmly rooted on any surface because of its flat sides, a Cube made out of Shungite amplifies Shungite's own powerful Root Chakra properties – grounding, stability, security, courage.
The combination of Shungite material and a Cube shape provide strong connection to the healing energies of Earth, and help to ease physical stress.
Shungite Cubes are perfect for a busy office with lots of EMFs or an active household. They protect and seal the space, while keeping you grounded and calm. The Cubes also help to create the most beneficial environment for brainstorming and generating business ideas, leading to creating material success.
Shungite material may have mineral inclusions like light streaks, spots or veins that are primarily pyrite or iron oxide that naturally occur in Shungite. This makes each piece slightly different and uniquely beautiful.

Learn more about SHUNGITE here, and about SHUNGITE's EMF properties here.
SIZES & RANGES of INFLUENCE

3 cm base:  approx. 5.0'   (1.5m)

5 cm base:  approx. 9.8'   (3.0m)

7 cm base:  approx. 24.6'  (7.5m)

10 cm base:  approx. 49.0'  (15.0m)
HOW TO USE

The larger the room, the bigger the cube should be to be effective.
To achieve deep meditative states, place a Cube next to you to help stay balanced and reach higher vibrational states while remaining grounded.
Use for energy healing (Chakra balancing or any other type) to ground & focus your energies before the session.
Keep Shungite Cubes in each corner of your office or place of work, for harmonious work environment and increased efficiency, while also creating protection from harmful EMF radiation.
PROPERTIES
Shungite is a natural mineral with scientifically tested abilities to purify water & air, and guard against harmful EMF radiation.  Considered to be a powerful 1st Chakra stone, it is  grounding and protective, helps to relieve stress, boost energy and balance body and mind.
Shungite's complex chemical composition and carbon-based fullerene internal structure are responsible for its amazing properties - water purification and detoxifying on the physical and subtle energy levels by absorbing toxic energies.
Because of its high carbon content your new Shungite piece may shed some black residue on skin, clothing or other surfaces. This is normal and harmless. The residue can easily be washed off most surfaces. Wiping the object with a soft damp cloth will remove any loose carbon dust and minimize this effect.
All our Shungite is sourced directly from Karelia, Russia and is tested for authenticity.
This information is not intended to be a substitute for professional medical advice, diagnosis, or treatment.