Shungite FIBONACCI Lapis Bracelet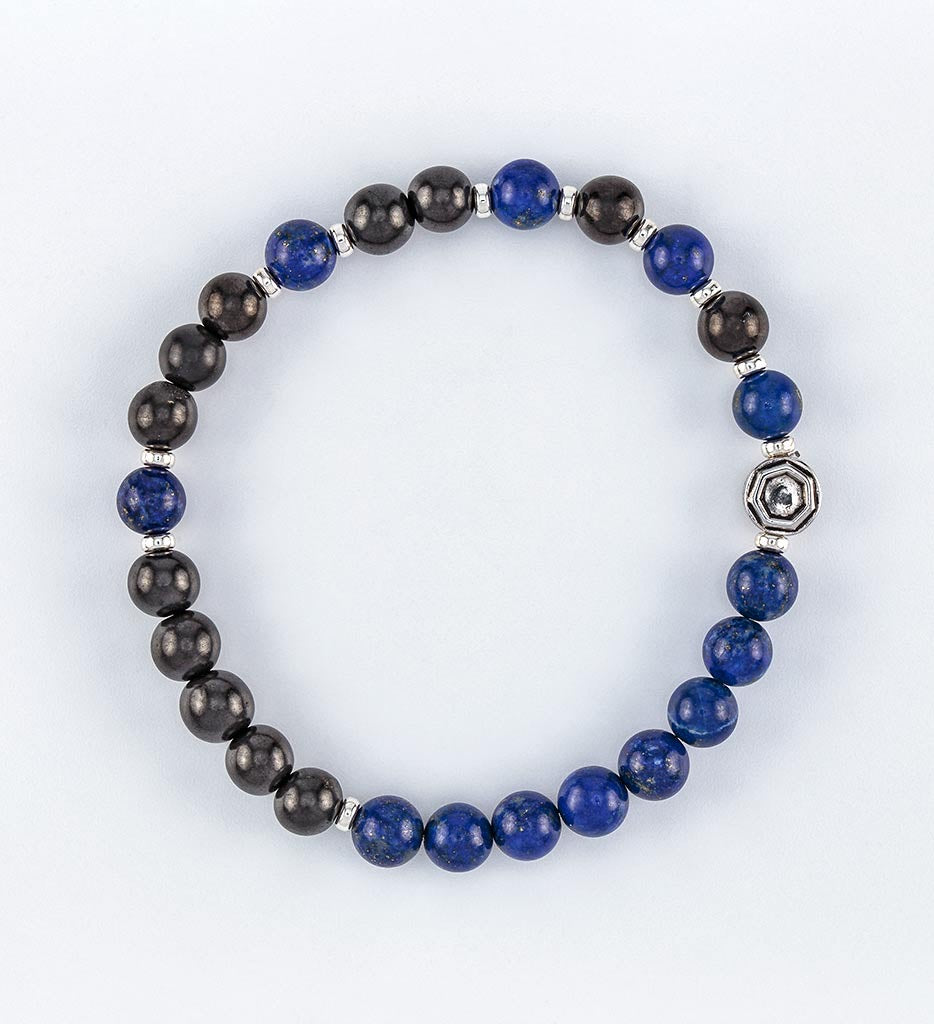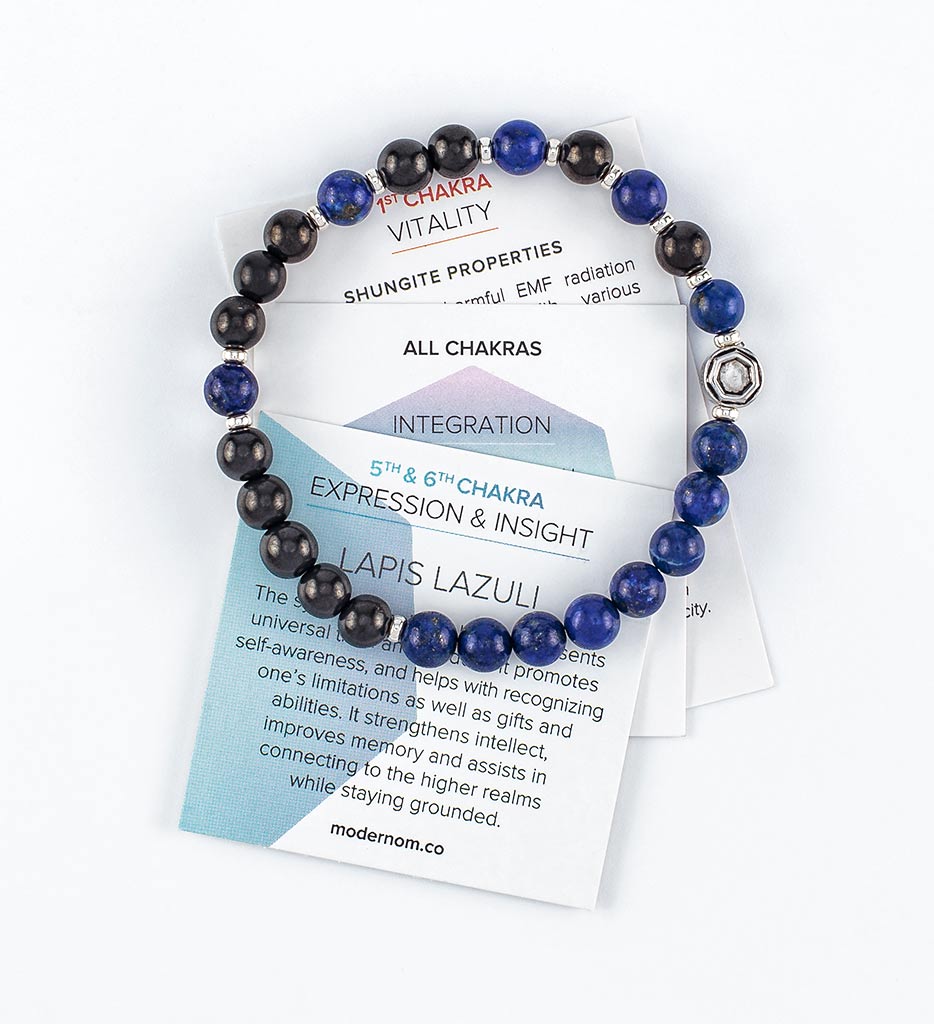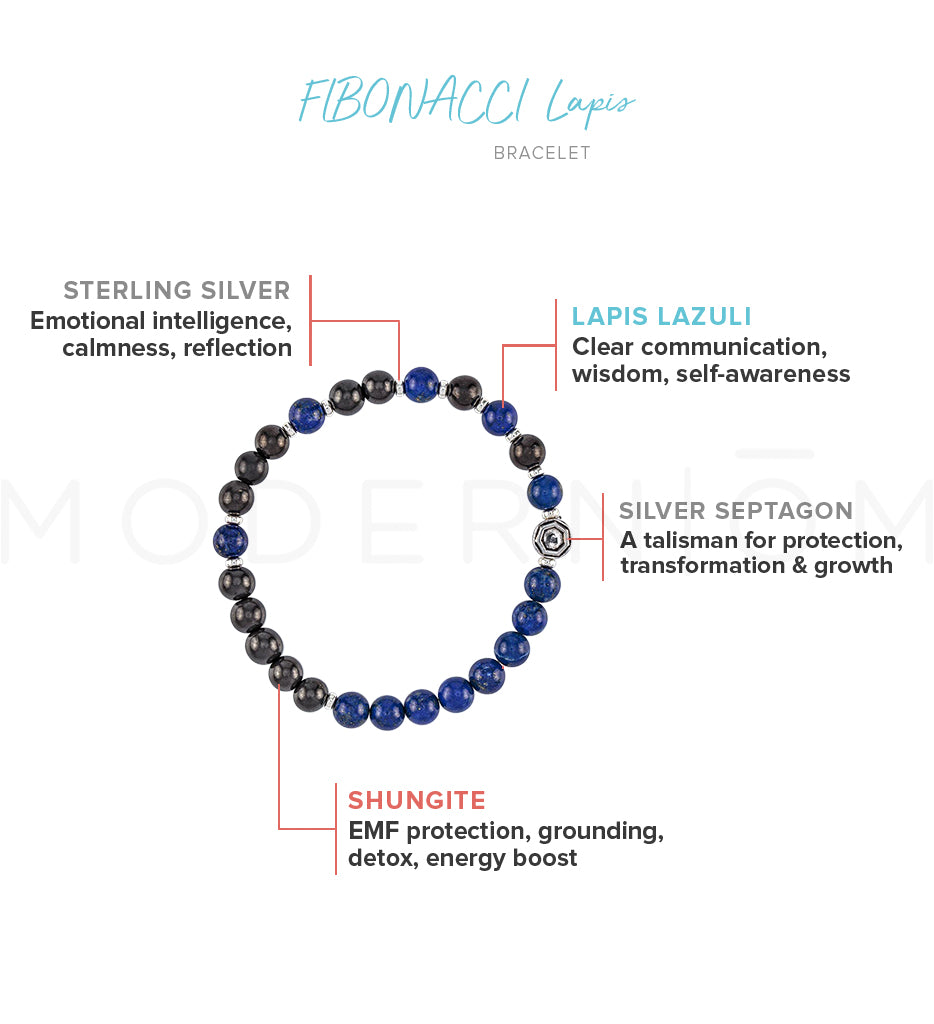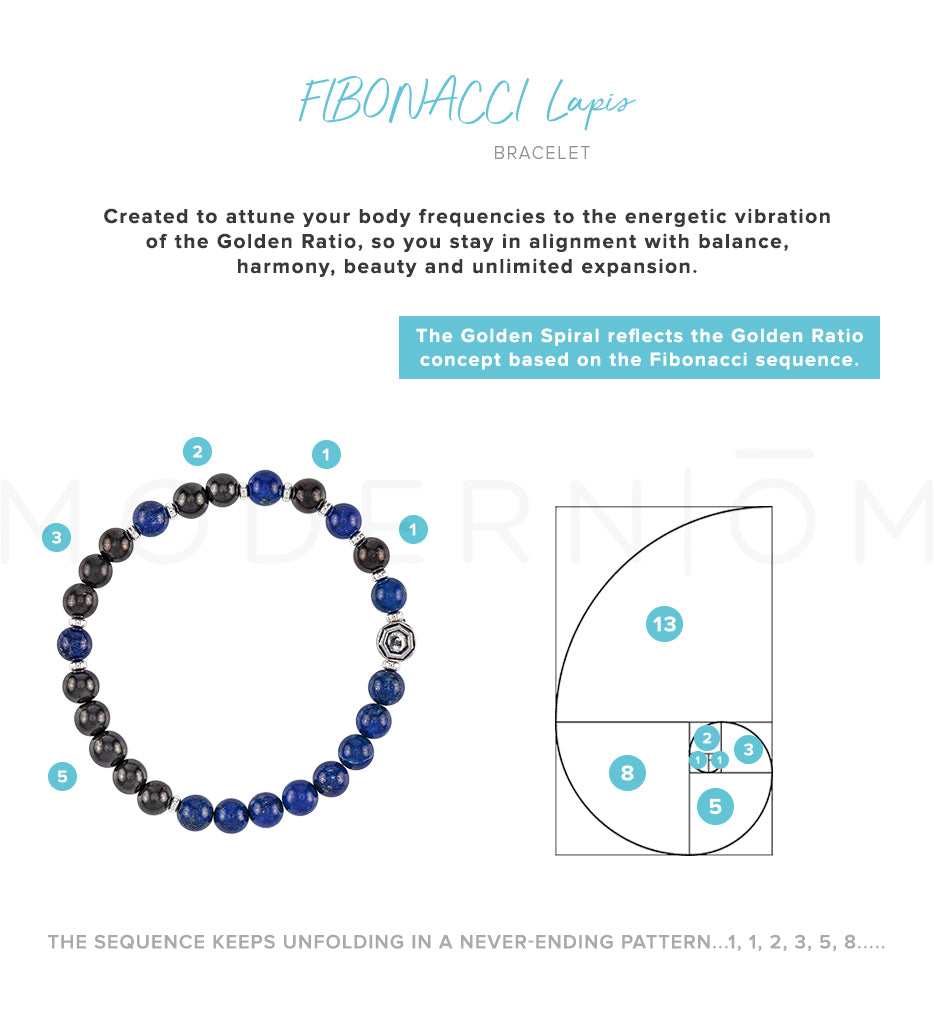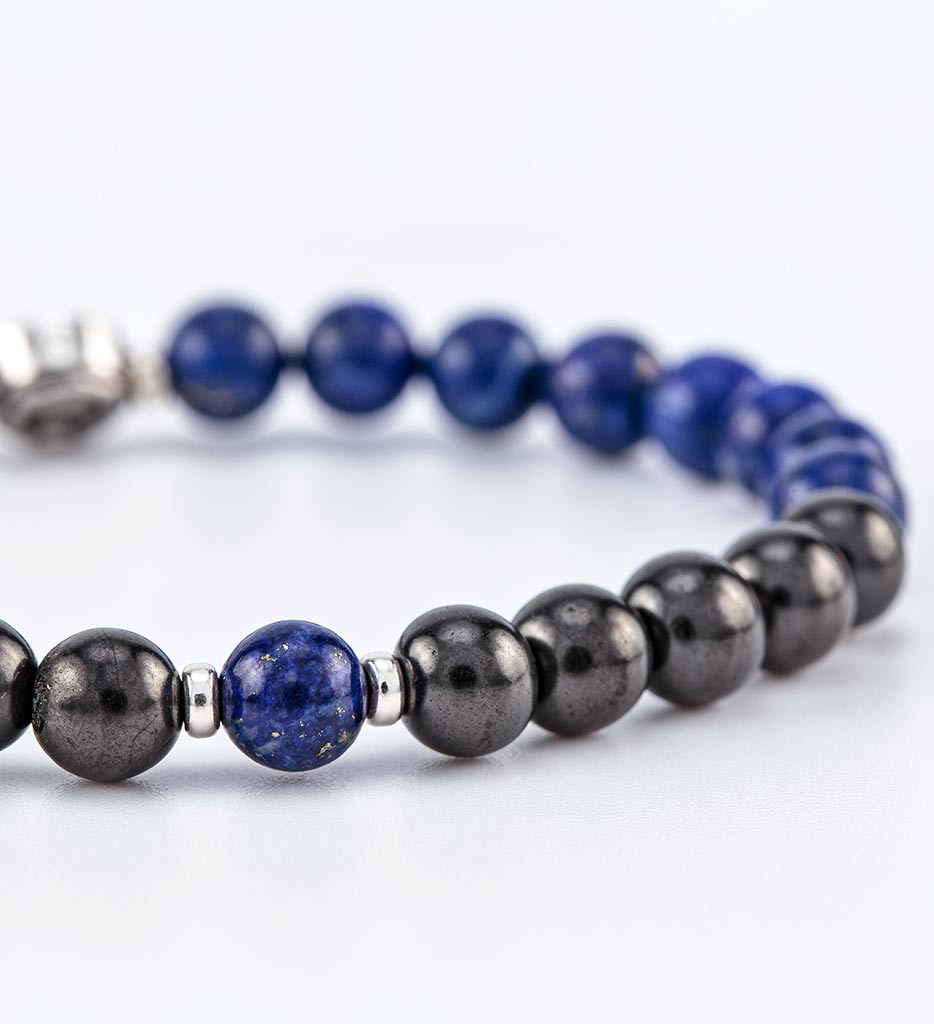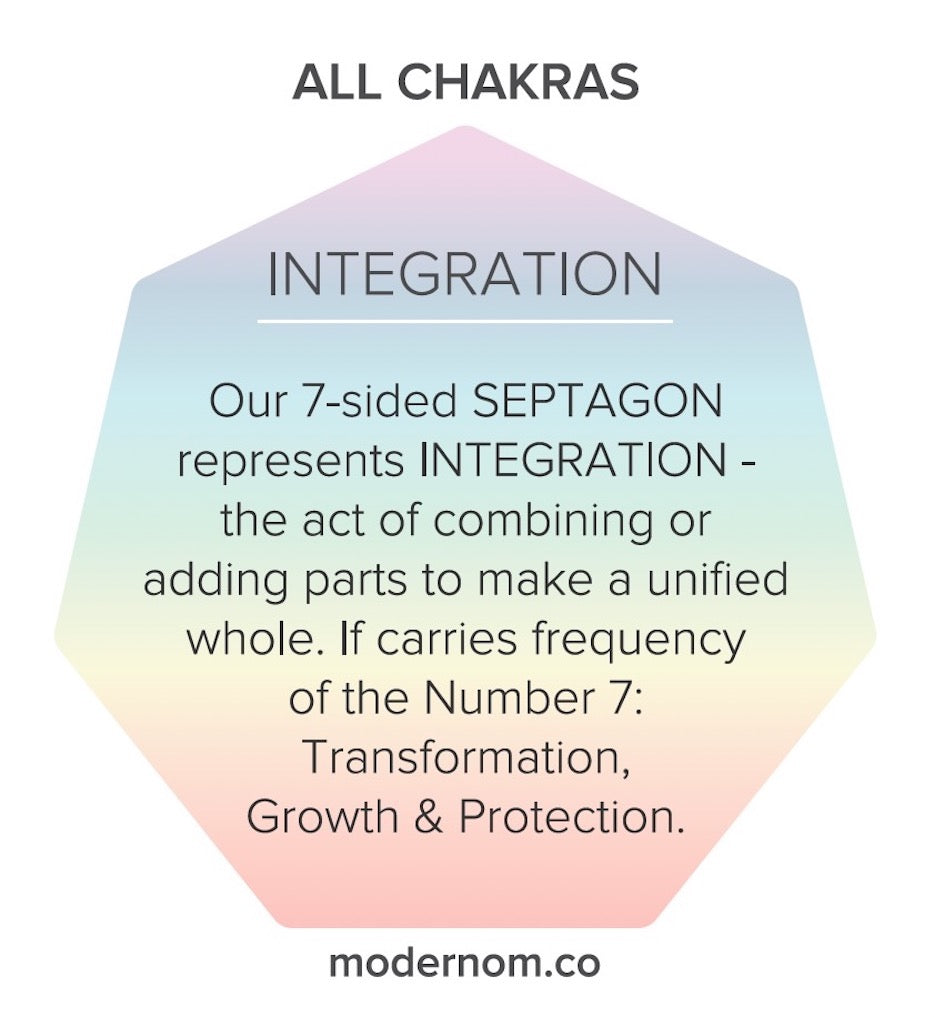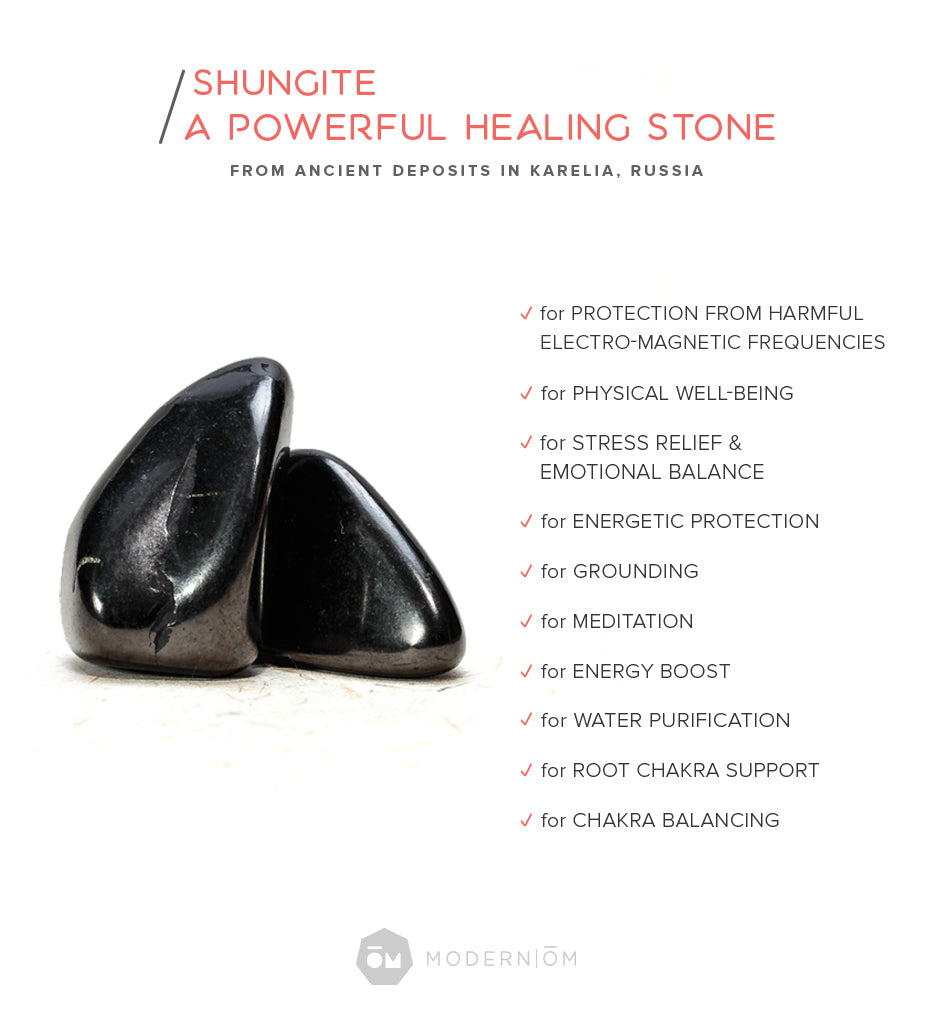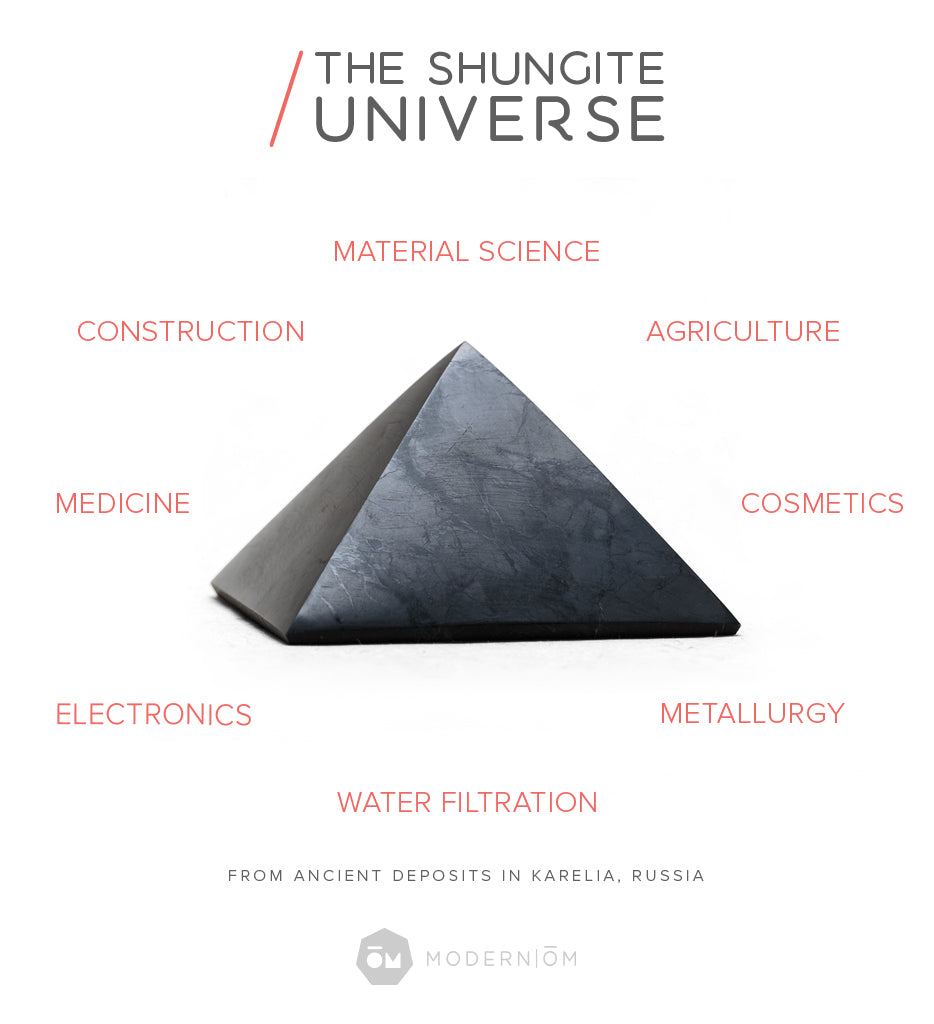 This bracelet is made with 6mm beads. It carries energies of the 1st, 5th & 6th Chakras - VITALITY, EXPRESSION & INSIGHT. It will remind you of your intention to be healthy, live without fear, communicate clearly and listen to your intuition.
The design is based on the Golden Ratio, a symbol of perfection and proportion. It is meant to help us stay in alignment with its inherent properties of harmony, balance and unlimited expansion.
Our Sterling Silver Septagon bead will serve as your talisman.  It carries the strong frequencies of the Number 7 - transformation, growth & protection.
Learn more about SHUNGITE here, and about SHUNGITE's EMF properties here.
DETAILS
6 mm Shungite, Lapis Lazuli
8 mm Argentium plated Sterling Silver ŌM bead & spacers
Hand-crafted in the U.S.A.
Comes in our Signature Gift Packaging
Includes corresponding materials cards
Small - up to 6.75"; Medium - up to 7.5"; Large - up to 8.0"
ENERGETIC PROPERTIES
Shungite - EMF protection, detox, energy amplifier
Lapis Lazuli - universal truth, wisdom, self-awareness
Sterling Silver - creativity, emotional intelligence, calmness, reflection
MATERIALS

Our jewelry is made with genuine and unaltered natural stones that may vary in colors.
Shungite is a natural mineral with scientifically tested abilities to purify water & air, and guard against harmful EMFs. 

Shungite's complex chemical composition and carbon-based fullerene internal structure are responsible for its amazing properties - the ability to purify water and to detoxify on the physical and subtle energy levels by absorbing toxic energies.
In its unprocessed state Shungite has a matte surface. On the Mohs Scale of Mineral Hardness it is between 3 & 4, making it quite a soft material. Shungite beads are polished to a light shine, with wear they tend to take on a matte appearance. This change does not affect its beneficial energetic properties or the longevity of the beads.
Shungite beads might have mineral inclusions (light spots or veins) which are primarily pyrite or iron oxide that naturally occur in Shungite. They contribute to the beauty of each piece making it uniquely yours.
Jewelry Care:  We recommend that you remove your jewelry before showering, bathing or swimming. To clean, gently wipe with a damp cloth.

 AUTHENTICITY
All materials used in our jewelry are responsibly sourced.
All our Shungite is sourced directly from Karelia, Russia and is tested for authenticity.
This information is not intended to be a substitute for professional medical advice, diagnosis, or treatment.