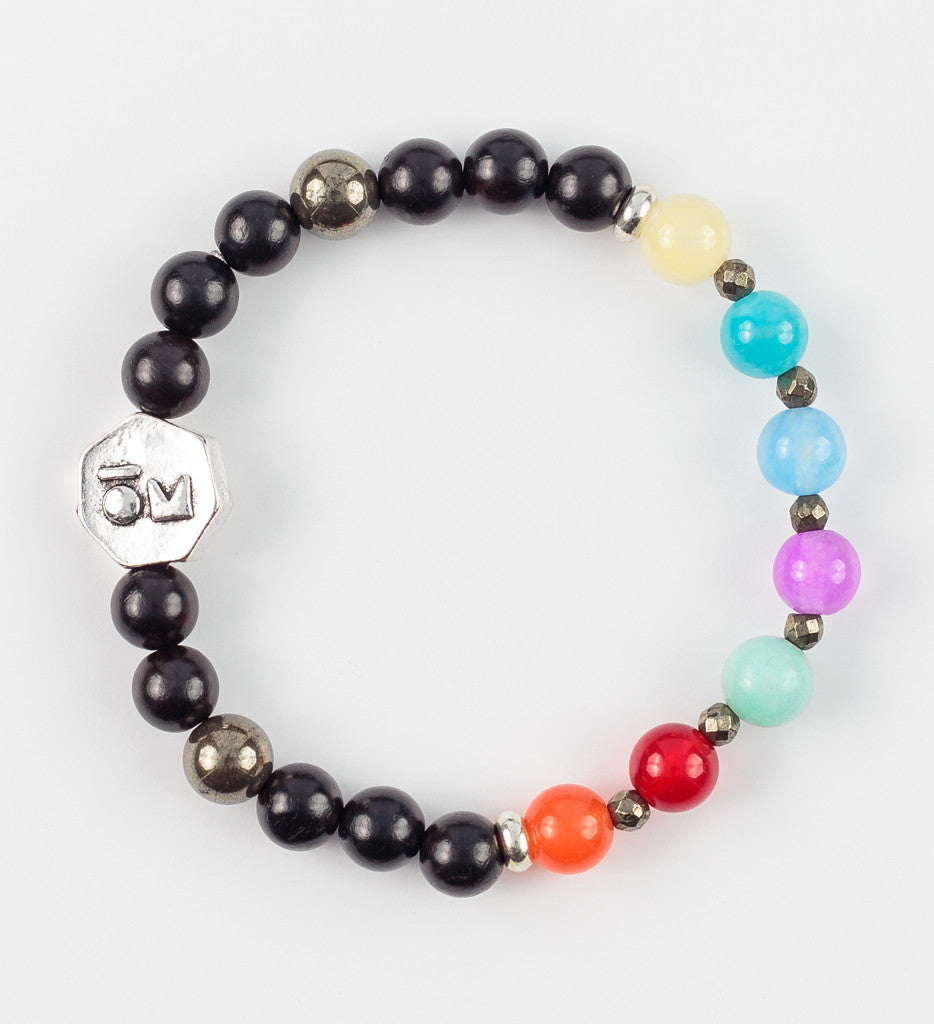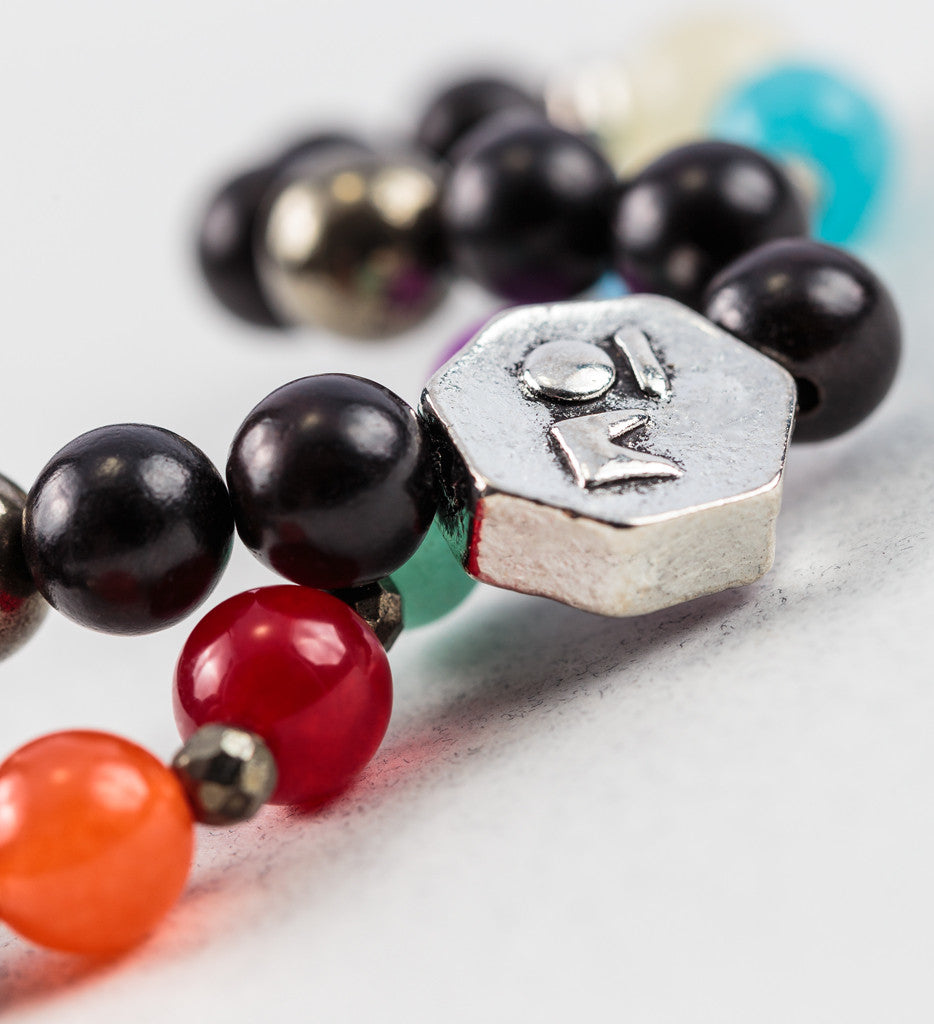 Our Modern Life Wrist Malas remind you to access your awareness in a complicated modern world. From navigating work, to traffic, to social obligations and social media… the energy of all 7 Chakras will support you in finding that balance between the external world and your internal peace. They are the perfect accessories for your day at the festival.
The unisex bracelets are made of Purple Sandalwood, with Red Agate, Orange Jade, Yellow Jade, Amazonite, Aquamarine, Blue Jade, and Purple Jade. 
View the Origin & Materials tab for more information on the unique properties of these stones and special woods.
All Modern ŌM Malas come in our signature gift box and include short descriptions of the materials used in their making.
Wearing It
Wear your wrist mala by itself, or pair it with our other wrist malas. They also look great stacked with your favorite watch. Our wrist malas come in 3 sizes.
MALA CARE: It is best not to wash your mala beads or wear your mala when swimming or bathing as this can damage the wood. To clean your mala beads gently wipe the beads using a damp cloth and place them in the shade to dry.
Origin & Materials
All Modern ŌM malas are ethically handcrafted in the U.S.A.
Our artisans recite mantras as they string your mala, to add their positive intentions to yours.
RED AGATE - A grounding stone with a cleansing effect, it bringing balance and harmony to the mind, body and spirit and gives courage and strength.
ORANGE JADE - Instills self-confidence and encourages, strengthens intellect. Provides inner stability, composure and maturity. Helps to banish negative emotions, awakens inner joy and brings pleasure and comfort.
YELLOW JADE - Cheerful, energetic, and stimulating, it is believed to attract good luck. Encourages release of the fear of change and enables self-sufficiency.
AMAZONITE - Encourages truthfulness, integrity, hope, and trust. Helps to dissipate worry and anger and overcome fears and emotional distress.
AQUAMARINE - Assists in the clear communication of our highest truth. Enhances courage and clarity to express inner knowing. Dispels the difficulty in communicating feelings.
BLUE JADE - Helps to relax and reach the deeper stage of meditation encourages self- awareness and supports a state of serenity, connects with inner voice and guidance.
PURPLE JADE - Enhances inspiration and a true sense of peace, increases spiritual awareness. Purifies the aura and dispels negative feelings and attitudes.
PURPLE SANDALWOOD - This very grounding wood has strong protective and healing qualities. It can be worn to relieve stress, bring self-confidence, purpose and courage, increase opportunities, and to help bring about positive changes.
Guarantee
Because malas are special objects that absorb the energy of your intentions, Modern ŌM honors the commitments you make when you wear them.
The Mala Society is our promise to repair or replace your mala in the event that it ever breaks.
By purchasing a mala online from us, you are automatically registered into the Mala Society. For more information click the Guarantee link at the top of the page.