Do you want to go deeper with your spiritual practice, but don't know where to start?


Everything you find seems too basic, disconnected, or commercial?
People pop up here and there, but you can't find a core like-minded tribe to grow with?
Books are great, but leave you wondering what now? How do I implement all this?
And you are sick of jumping from app to app? And YouTube has become overwhelming, and the quality is unpredictable?
Where can you find some dedicated peace and quiet to really learn and grow and discover the gifts you have to give?

If you are asking yourself these questions, then welcome to Modern ŌM.
We get you! We are a community dedicated to YOUR inner journey.


There's no greater adventure
than the inner adventure
Modern ŌM is a place to explore what it means
to truly connect with yourself and others, and to discover how to
peacefully thrive in your life.

If this is your vibe - watch the video below for a taste of the magic..
Are you ready to show up in life
as the most empowered version of YOU?


Great!
We understand what it's like to have a big vision for your life and what it takes to be fully committed to living that heartfelt vision. And we understand that life gets in the way and that some days we all need all the support we can get!

At Modern ŌM the community is here to serve YOU - daily - on your life's journey. You will have a teacher or mentor with you every step of the way, whenever you need - plus connecting with inspired and dynamic people around the globe who are having the same insightful, inspiring and heart opening experiences you are seeking.


"Excellent! Varied, entertaining, profound, informative, deep, practical, spiritual, current, multidisciplinary, and much more."
- Jocelyne K. United States


Keep reading to get a deeper look inside
what the Modern ŌM Community has for you..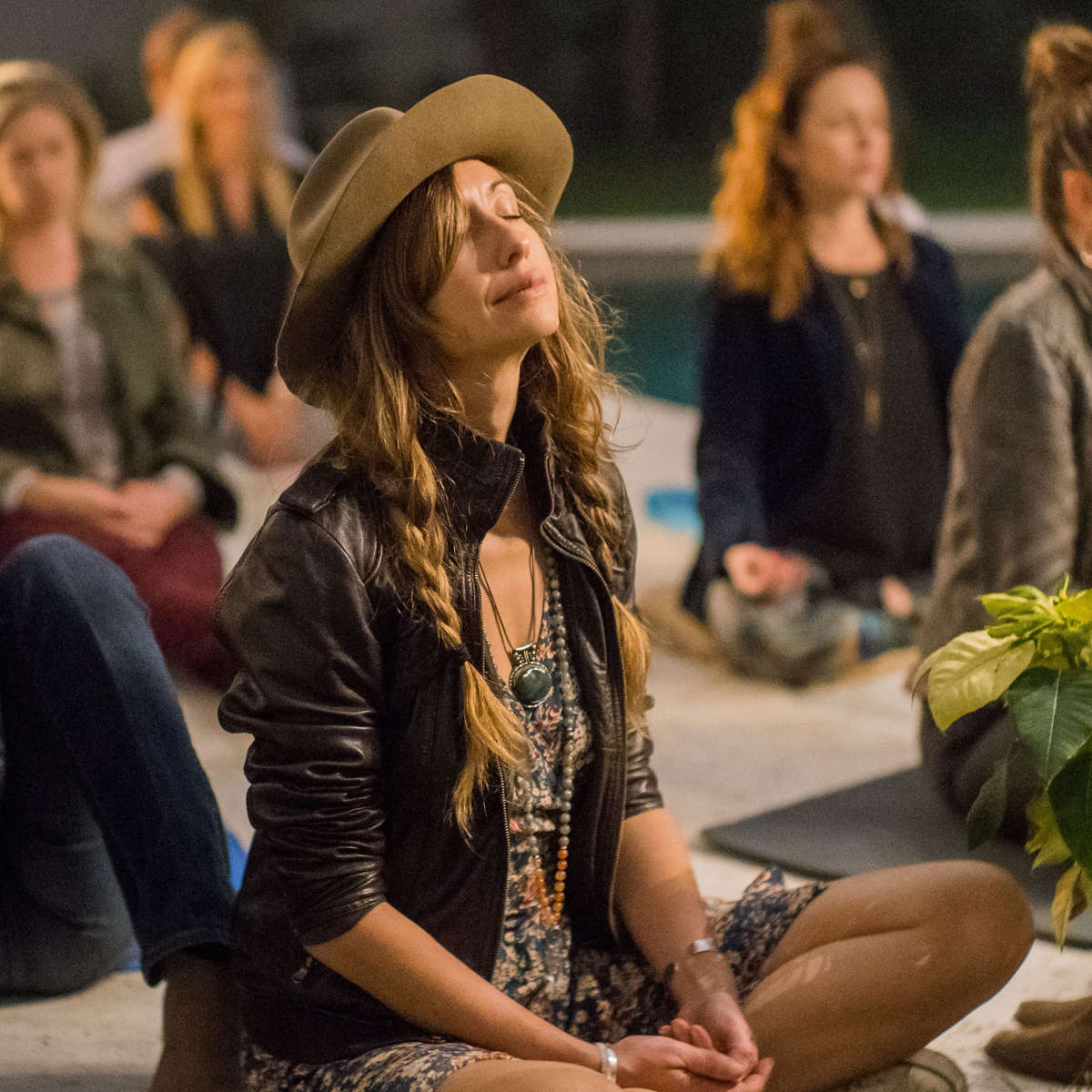 We've curated Powerful Tools, Techniques, and Lessons that lead you on your OWN path to Freedom and Personal Power (With the support you need)


If you're ready to:
Develop a daily meditation practice
Connect with your breath and follow its transformative power
Explore diverse spiritual principles for living a mindful life
Use sound therapy to heal and balance body, mind and soul, or
To ground into your body to explore its natural wisdom in movement sessions
To be in community with people who see you and get you, and
To Truly commit to the highest expression of you.
Then welcome, home. Modern ŌM is for you.


If you are called to be part of our world's peaceful and empowered transformation, this membership is for you.

If you're willing to expand and strengthen your inner world, so that you
can create a more beautiful, harmonious, and expansive outer world,
this membership is for you.


Welcome to The Modern ŌM Community
Full Access to Modern ŌM Community
+ Cushion Crawl Infinity
+ Journaling, Book Clubs, Sharing Circles
30% Discount on Masterclasses

(no contract - cancel any time)


Full Access to Modern ŌM Community
+ Cushion Crawl Infinity
+ Journaling, Book Clubs, Sharing Circles
50% Discount on Masterclasses

(no contract - cancel any time)


Full Access to Modern ŌM Community
+ Cushion Crawl Infinity
+ Journaling, Book Clubs, Sharing Circles
50% Discount on Masterclasses

(no contract - cancel any time)


"My Calm in the Midst of a Storm"
- Priscilla E. United States
"Little did I know joining the Modern ŌM Community last year at Easter would be the beginning of my relationship with this magical, tight-knit community. There is chaos and fear circulating in the world, but not here. We lean on each other, we raise each other up high, we applaud each other's successes and we love each other so much that we continue to show up daily not only for ourselves, but for each other. I have a sense of peace and calm that has never left me throughout all these weeks of 'isolation'. Thank you ModernOm! Teachers worldwide show up on a screen in our homes daily to remind us we are a strong community and we're not separate just because social distancing is a thing. Each day we are reminded to go inward and connect to who we really are, to where we all come from, to return home to where we are perfect, loved and safe. Thank you Myk, the staff at ModernOm, all the teachers & the OMies! Together we have made this quarantine a beautiful journey going inward and can't thank each of you enough!
Thank you for helping me remain calm in the midst of the storm.
Love & light to you all."
We are here for you!
To support you - daily, to learn, grow and expand your vision of what you thought was possible. Let's do this together.

You can stop running around out there in the world, looking for some..thing... For that next thing that's going to help you find your peace. At Modern ŌM you are home.

We are a collective of people just like you, on our own journeys of self-actualization: teachers, healers, and mentors all committed to helping raise awareness, and as part of the Modern ŌM Family we are here to ensure that you have the support you need to shine your light!
Modern ŌM is a home. It's where you belong. Where you are allowed to be yourself, express your dreams, find courage in healing and taking action to create and live your one precious life.
You are welcome here, and we are waiting to meet you.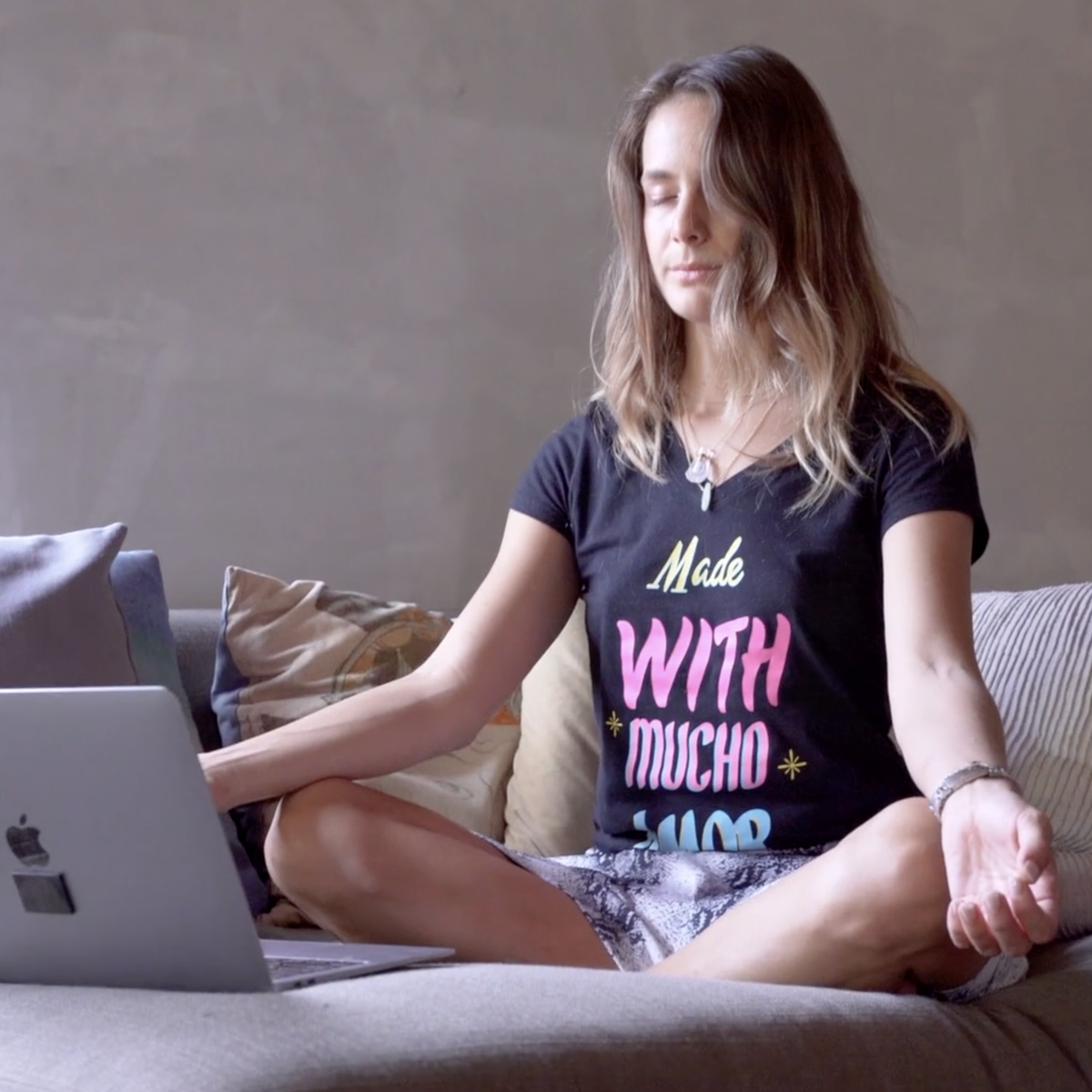 Introducing Modern ŌM:
Your home to inspire peace
and joy in your life.
In this membership, the Modern ŌM community will share with you practices, lessons, and tips to become more peaceful, resilient, and happier. Plus be supported in a deeper and more regular inner practice.
Daily and weekly, in one place, access real-time, LIVE sessions that will prioritize your personal growth, keep you engaged in your spiritual practices, and support you in applying this knowledge to your life.
You are invited to join us on the path to freedom, personal growth and (of course) connection with your global ŌMie community.


A tribe committed to participating, taking action and high accountability. Support around the clock, masterclasses, sharing circles, and Q&A with your favorite teachers, (...yes you can ask them anything!)
"A gift for yourself and the collective"
"I have looked forward to my mornings with Modern ŌM. It has instilled a practice that I have been longing for. Content is so juicy and needed. I'd recommend 10/10."
- Christine C. United States
We Explore Topics Like....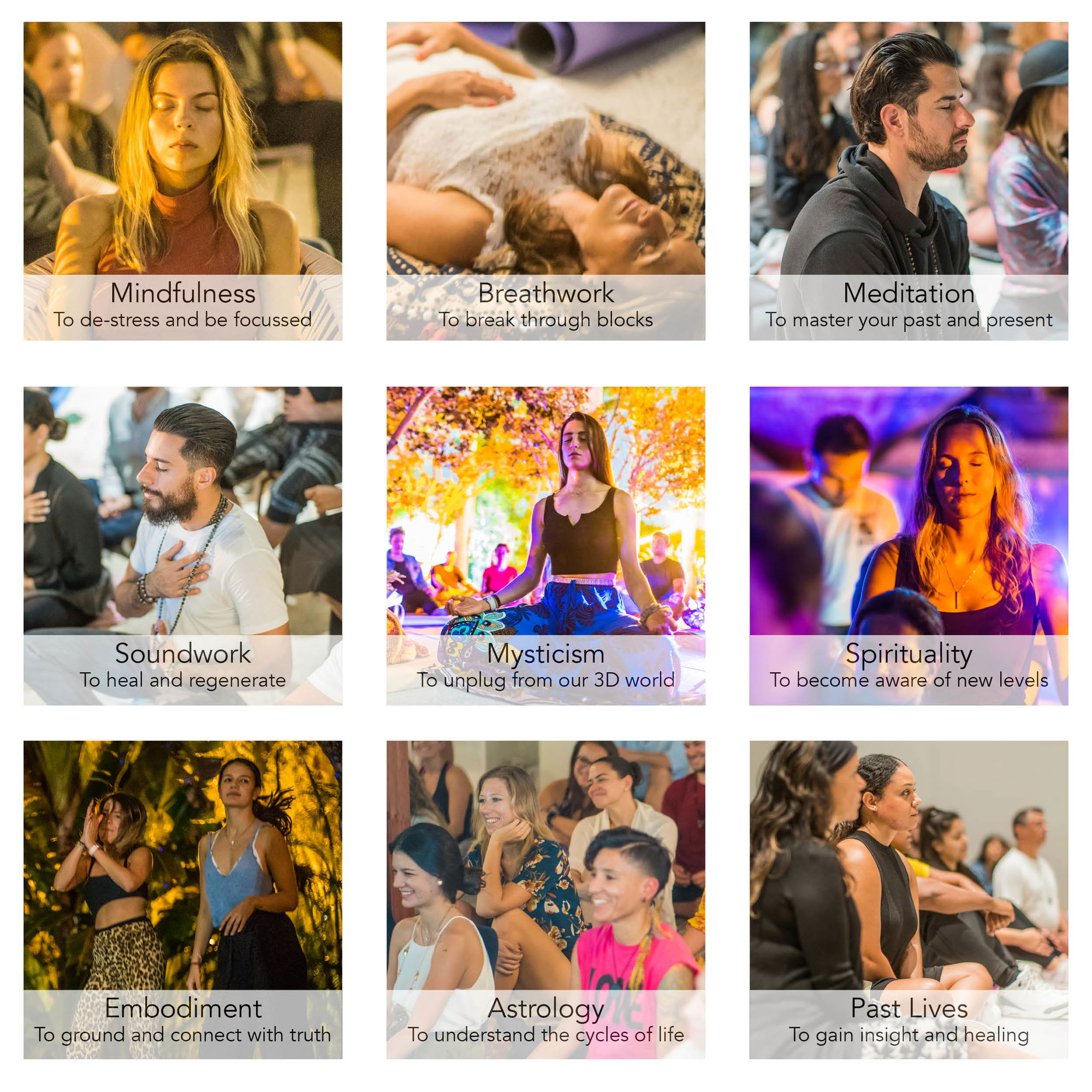 So many people are 'chasing' their dreams, seeking 'an incredible life.' They jump from book to book, new app to new TV series, and seldom fully immerse in doing the daily work, and so become "consumers of transformational content." Which can be entertaining for sure.
However, there is a level of commitment to putting in the time to bring those dreams forward.


There are people that do things differently - and are living the life of their dreams!
These people know the difference between knowledge and wisdom, and that difference is in applying what they learn vs. just reading or listening.


They show up daily and weekly for their dreams, taking ACTION, and committing to their growth.
Our mission at Modern ŌM is to support you in showing up as the most empowered version of you.
Our collective of over 100 facilitators, teachers, and experts have dedicated their lives to taking action and want to help you do just this:
Achieve the life you seek by getting the support you need to create your future self daily!
"I greatly appreciate the opportunity to join ModernOm and participate daily in the Cushion Crawl during this COVID-19 period of "stay home" orders. The Cushion Crawl is providing me with opportunities to learn from a diverse set of meditation and yoga teachers. I learn something new every day while I am growing in my own personal practice. What a blessing!"
- Linda F. United States
What Makes Modern ŌM Community so special?
Never before have such a collective of facilitators, teachers, and experts gathered in one place, with the one intention as a group - to serve YOU!
With a network of 100+ facilitators sharing their deepest and unique wisdom, this is a single place for you to dive in, connect with community and open to discover the adventure of life.
There are many courses out there, but nothing is as deeply personal and intimate as the Modern ŌM community and mentorship. Having direct access daily to this many extraordinary teachers, and mentors, has never been available before. Plus being with the other like-minded people who are engaged and committed to do the work, and walk the path, is truly unique.
And in a word the Modern ŌM energy is HIGH!
Along with the daily sessions, (and access to the full back library), the Modern ŌM Community defines a track for you to discover, connect, go deep and make the real progress you seek with accountability from leaders in their field.
We personally invite YOU to walk with us on this journey to unlock AUTHENTIC CONNECTION, discover your HIGHEST EXPRESSION, to get personally ENGAGED with your new tribe, and DEEP DIVE into your most aspirational topics, get introduced to life changing BOOKS and meet our curated collective of MENTORS and GUEST teachers and healers, which can truly support you to change your life.
Every session, circle, program, masterclass and guest experience has been carefully designed by our experts who have extracted the most effective techniques and power tools from their years of teaching, coaching, healing, and working one on one with people.
They share the best of the best that brings the results.


Be part of this Mindful Community - Activate Your Membership Today
Full Access to Modern ŌM Community
+ Cushion Crawl Infinity
+ Journaling, Book Clubs, Sharing Circles
30% Discount on Masterclasses

(no contract - cancel any time)


Full Access to Modern ŌM Community
+ Cushion Crawl Infinity
+ Journaling, Book Clubs, Sharing Circles
50% Discount on Masterclasses

(no contract - cancel any time)


Full Access to Modern ŌM Community
+ Cushion Crawl Infinity
+ Journaling, Book Clubs, Sharing Circles
50% Discount on Masterclasses

(no contract - cancel any time)


Hi I'm Myk Likhov,
Founder of Modern ŌM.
I'm grateful you're here and willing
to take this inner adventure with us!

Modern ŌM was created to offer tools to go inward.
200+ days ago (on Day 5 of quarantine)
I committed to showing up online
for anyone who needed a daily practice...
'until we could hug again.'
I invited Mindfulness experts from around the world to share their best practices and wisdom with us.

The response was greater than I could have believed!

Day after day, as new mentors kept showing up, people around the world got word about our daily sessions,
and an online global community began to flourish!
Our daily sessions turned out to be more than
a way to pass the time during lockdown.
People found value in our
diverse program for self-exploration,
learning from charismatic & caring teachers
they would never have discovered.
(nor afford.. in many cases.)
As a result Modern ŌM has evolved into
a HOME for learning and growing in an unmatched
online mentorship anywhere in the world.
Our sessions are changing lives, helping people through deep uncertainty and inspiring people to apply what they are
learning, and to keep committing to their growth.
Before the Cushion Crawl went virtual, Modern ŌM was the leading mindful community in Miami, Florida.
We have been featured in:
The Miami Herald, New York Observer, Well + Good, MindBodyGreen to name a few, plus collaborated with brands like Edition Hotels, WeWork, Puma, Soho House, Mandarin Oriental and Miami Design District.
So this is a great evolution for us as a community
and to help us bring our message and mission to a wider audience.
Finally I can now say YES, when people ask, "Are you online?"
"How can we take part in the Modern ŌM experience?"
and "When can I meet the Modern ŌM tribe?"
Thanks for considering bringing Modern ŌM into your life
and joining our tribe. I personally look forward
to welcoming you to a daily Cushion Crawl session.
To infinity, Myk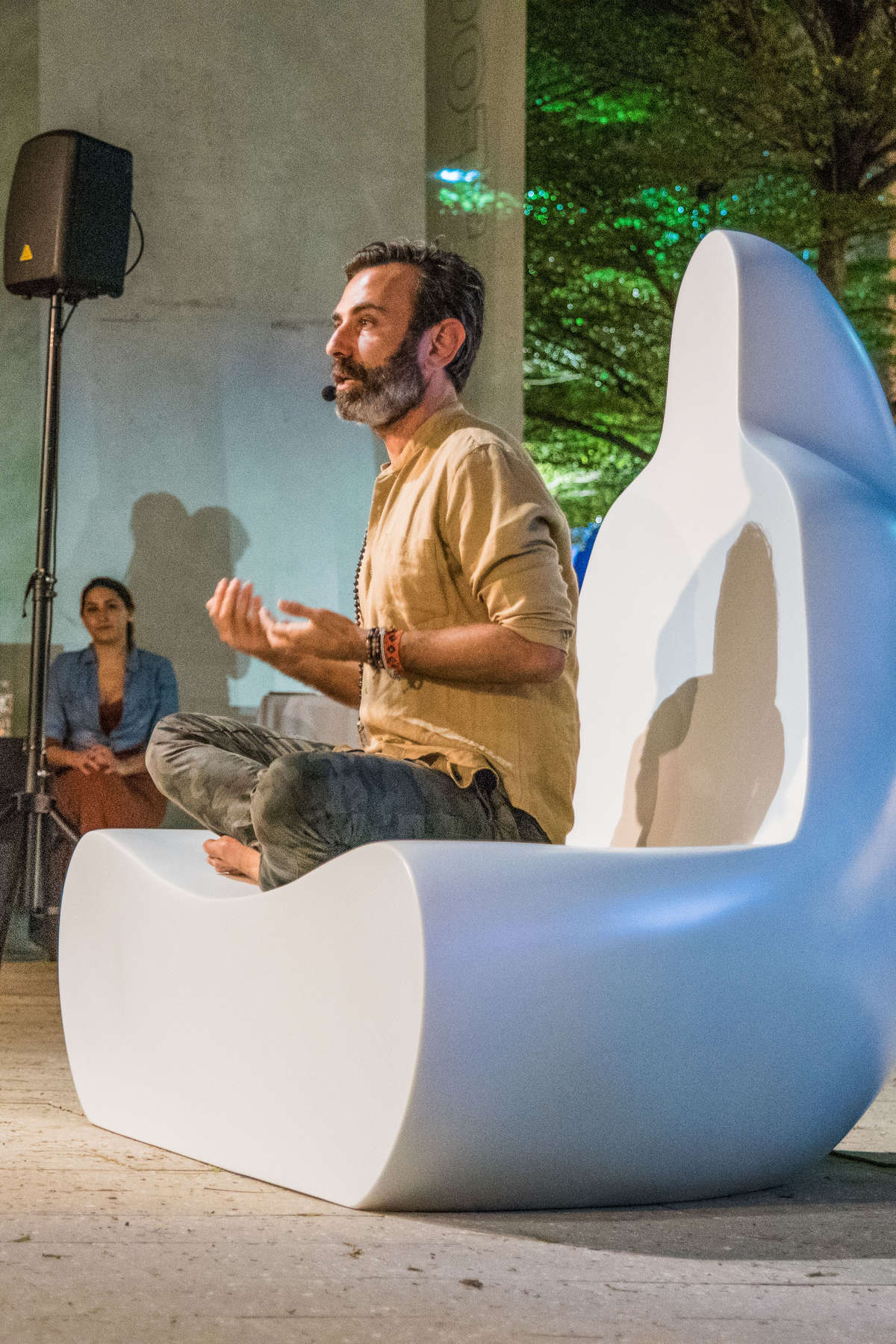 WHAT THE ŌMies have TO SAY


"I am in love with Modern ŌM!!! Feeling very thankful..."
- Georgina (June 2020)
"I have looked forward to my mornings with Modern ŌM. It has instilled a practice that I have been longing for. Content is so juicy and needed. I'd recommend 10/10."
- Christine (May 2020)
"Being able to listen to these daily cushion sessions has been an experience of giving time to my own self care. Learning so many different ways of how to gain inner peace with meditations, breathing, or experiences by amazing beings. I definitely consider it a blessing."
- Claribel (June 2020)

"Netflix - living someone else's life. Modern ŌM Cushion Crawl - living your life!"
- Augustina (Oct 2020)

What You Will Receive By Joining The Modern ŌM Community?


LIVE Daily Cushion Crawl Sessions
by a Modern ŌM Teacher
YOU time, in a semi-private intimate online session to learn and grow.
45 minutes - private streaming 10AM EST
Including Q&A - you have full access to each mentor while they are live.


LIVE Sharing Circles each week
lead by a Modern ŌM Mentor
To connect with the community, find accountability partners
and share the journey.

LIVE Journal Circles each week
lead by a Modern ŌM Mentor
Time to reflect, set intentions, share and bond with the tribe.

Free access to regular LIVE Book Clubs
lead by a Modern ŌM Mentor
Modern ŌM Mentors share their personal highlights
from the most influential books and authors in their lives.

MEMBER BONUSES

1. Private Community Group to keep you engaged
and up to date on your favorite teachers.

2. Free Unlimited Access to the Cushion Crawl Back Catalog to replay sessions you want to review, or catch up on your new fave teacher's past sessions.
3. Members Only Discount to Advanced LIVE Masterclasses
Our extraordinary mentors share their wisdom with you. Have direct access to them during these extended intensives. A new masterclass will start every few weeks and you are invited!

4. Members Only Discount at the Modern ŌM Store
To buy yourself and your loved ones those important and meaningful gifts. Reminders of our intentions and our dreams!


PLUS SURPRISE EXCLUSIVE GUESTS AND POP-UP BONUSES

Currently:
WOOM Center x Modern ŌM Collaboration
Free access to two signature yoga classes per month.
What's your Investment?
Three options to suit your budget.
$39 for your first month and then $39 US recurring monthly
(no contract - cancel any time)

Full Access to Modern ŌM Community
+ Cushion Crawl Infinity
+ Journaling, Book Clubs, Sharing Circles
30% Discount on Masterclasses


$99 for your first quarter and then $99 US recurring quarterly
(no contract - cancel any time)

Full Access to Modern ŌM Community
+ Cushion Crawl Infinity
+ Journaling, Book Clubs, Sharing Circles
50% Discount on Masterclasses


$299 for your first year and then $299 US recurring annually
(no contract - cancel any time)

Full Access to Modern ŌM Community
+ Cushion Crawl Infinity
+ Journaling, Book Clubs, Sharing Circles
50% Discount on Masterclasses


⭐️ 14 Day Happiness Guarantee ⭐️
Join Now - Risk Free
During the 14 day risk-free period, you will get a chance to explore the Modern ŌM Community and Membership. We guarantee you will:


Hear inspiring and transformational sessions from teachers around the world
Apply and experience practical approaches to showing up empowered in every area of your life
Feel supported by the Modern ŌM community and engaged to support each other
If you are not completely satisfied that you are getting all of that out of your Modern ŌM Membership, simply let us know at by emailing our support team within 14 days of purchasing and we will issue you a 100% refund.
We are so confident that you will be enriched by this community that we are giving you this period risk free - the risk is on us.
"So many ways inward. Incredible."
- Clarke C. United States
"What I love most about the daily sessions is the variety of ways inward the ModernOm team provides. From mindfulness, to changing to esoterica, they cover it all with experts in the field. Love, love, love it!"
"I am really enjoying my cushion crawl."
- Alexandra B. United States
"Each day is so thoughtfully curated to bring a unique meditation experience. I have learnt so much about the different methods and approaches and I look forward to each session and the moment of inner nourishment each brings. Highly recommend. Thank you Modern ŌM! "
Are you ready to have access to mentors
who have been in your shoes?
People like you, who have committed to their own journey of self-discovery, backed by a solid support system. People who have powerfully learnt the tools to find their inner peace and freedom?
This is the time for you to say YES.
Yes to YOU and your commitment to your future self.
You have what it takes!


We are a collective of mentors, teachers and a thriving engaged community who are here to support you every single day, week and month through daily sessions, training, mentorship and accountability.
Because we know that this kind of support is what can change the game for you.
(no contract - cancel any time)
(no contract - cancel any time)
(no contract - cancel any time)
We have carefully curated this program to bring REAL experiences and results. It's for people who are committed to TRULY being mindful humans, and achieving a new level of inner peace. There is a journey to be had here friends, and we are here to share the depth and breadth of all possibilities.


We are confident that you will see the gifts and results of applying yourself to the inner adventure. If you are unsatisfied with anything you can cancel at any time, no questions asked.
We know that if you go ALL IN in the first few months you can have some major new awarenesses and radical shifts. Our current members find they get more inspired and engaged with each month, and they look forward to connecting with, and growing with each other on the way.



Let's Answer Your Questions..
Q. What do I get access to when I join?
A. When you join Modern ŌM Community you will have immediate access to our Member's Only area, the daily Zoom sessions, plus the weekly online community gatherings, the past library of Daily Cushion Crawl Sessions and access to the community group.


Q. How much is the Modern ŌM Membership?
A. US$39 p/m or US$99 every 3 months, or US$349 annually
Q. How do I pay?
A. You will enter your credit card into our secure system and your membership will renew either monthly, quarterly or annually based on your subscription.

Q. Can I change my mind?
A. Yes. We have a 14 Day HAPPINESS Guarantee. If you change your mind or are not happy with your membership, we will refund your payment, just send us an email within the correct timeframe.
Q. How easy is it to cancel?
A. Very easy. You can cancel your membership at any time - simply email our support team, and your future renewals will stop. You will have access to your membership until the last day of your current paid term. Beyond that you will lose access to the content and the community.
Q. How often will I have contact with the Mentors and Teachers?
A. Every day there is a live session at 10am EST, plus weekly group mentorship sessions (Sharing Circles, Journaling, and Book Clubs). In addition you can enroll in discounted Masterclasses with Mentors for deep dive and more personal access.
Q. I can't make the live sessions, are there replays?
A. All Daily Cushion Crawl Sessions are recorded and will be available for you at any time. However the Bookclubs and the Sharing circles will be live only.
PS. A Final Note from a few Modern ŌM Mentors..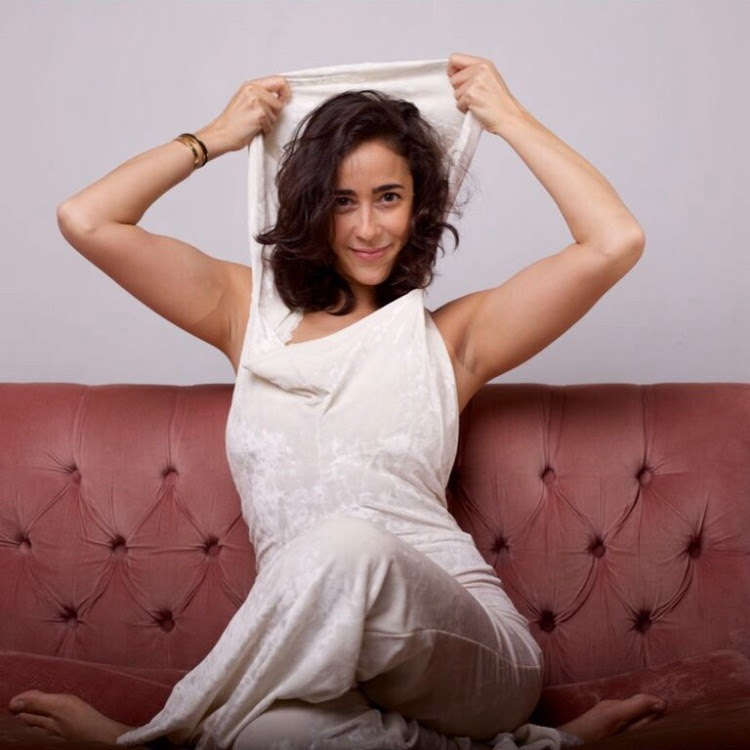 "Explore various states of being. Lean in softly, allow trust and accept what arises."
Soundmaker, Breathworker & Yoga Guide
"Patterns of life are a mystery awaiting us to unravel them, the sky shows us the cycles and the way.."
Astrologer, Author & Life Coach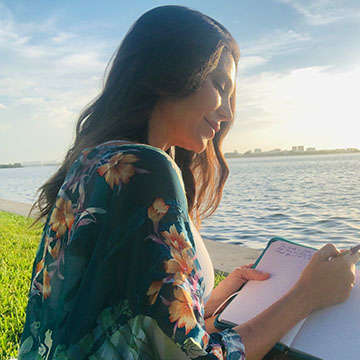 "Journaling allows self-discovery and will tap you into creating your vision for a new world ahead."
Vision Map Coach, TV Host & Entrepreneur
"Step out of your identity, beyond thought and emotion while still being connected to all of you."
Spiritual Guide & Transformational Specialist
"Strengthen your capacity to direct your life in alignment with your soul, so you can listen and follow through."
Mindful Lifestyle Facilitator


"Explore sound healing and the full potential of your breathing to heal and cultivate tools you can use in your life."
Expert Sound Practitioner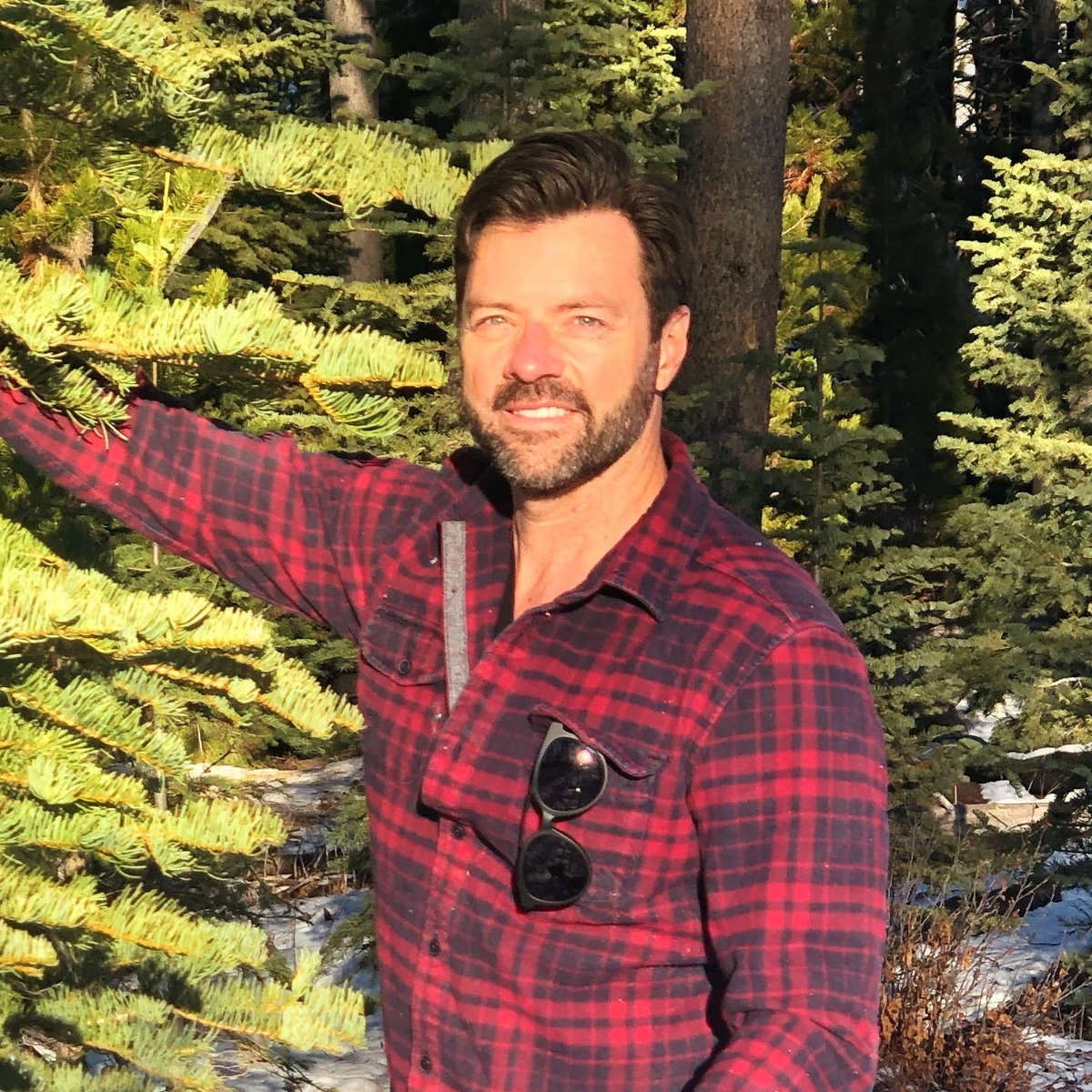 "The human expererience can be a beautiful reality. Sometimes just one little insight can make a massive difference in our lives."
Spiritual Coach & Storyteller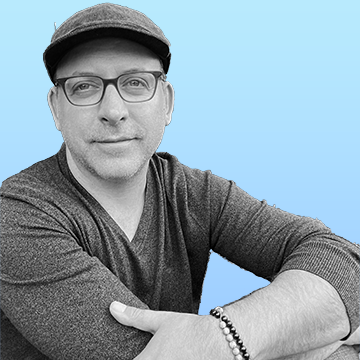 "Let's sit together and explore the wisdom of change, and the power of resilience and survival."
Meditation Teacher & Creativity Coach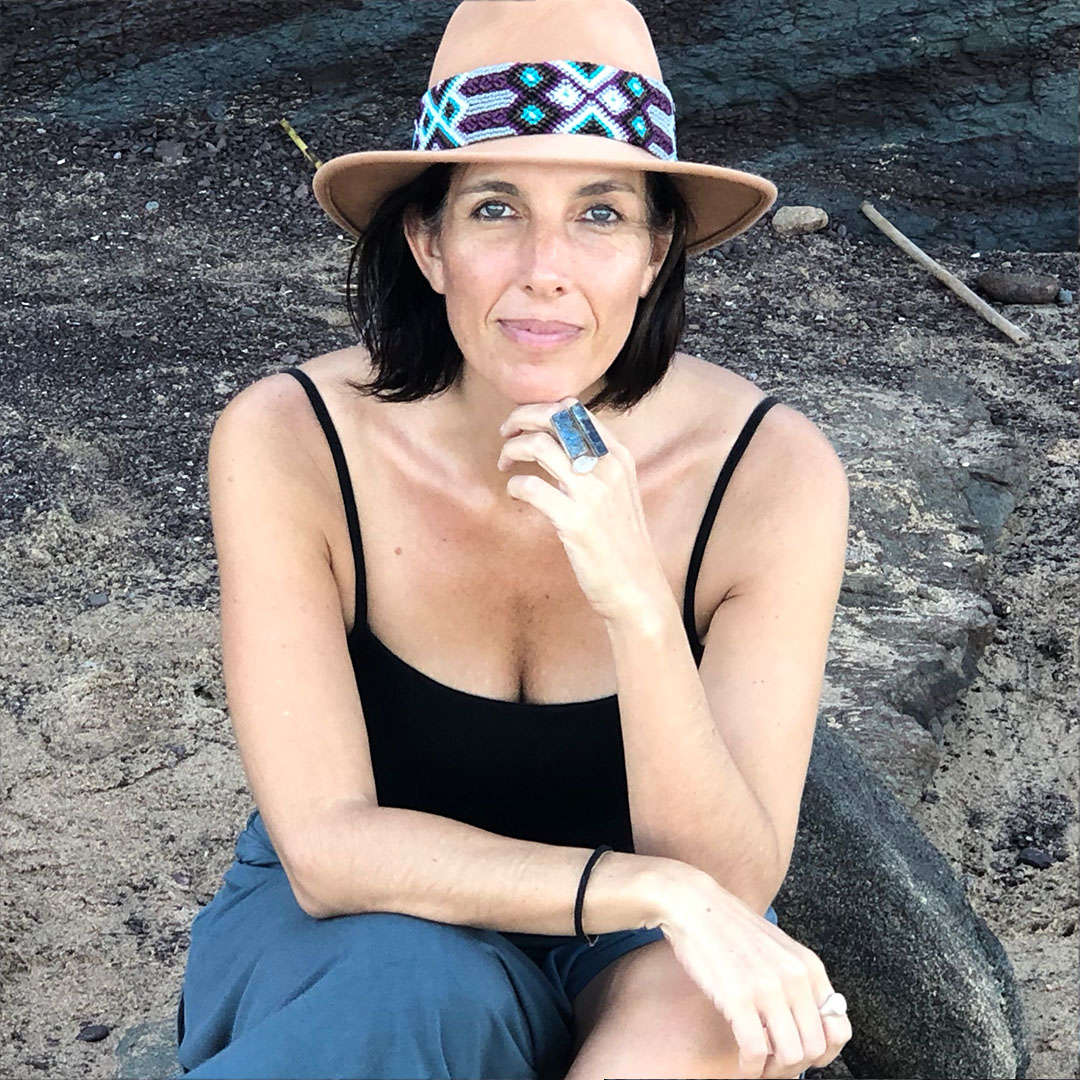 "Art and music is the very medicine we can use to heal the past and find freedom, beyond words and the mind."
Alchemy of Dance Facilitator & Purpose Coach


In the Modern ŌM Community we will show you how to live a life of freedom, joy and mindfulness.
Start living your self-expression and discovering the unique being that you are.
You are invited to take the step towards YOU and your purpose. Supported fully to keep taking the actions you need to grow.
As we align more with our true self and engage in our self-awareness, we connect with who we truly are, we take responsibility for our life and can craft our future with the power and intention we have already inside us.


We look forward to being with you and serving you as you rise!


Much Love the Modern ŌM Mentors xoxo
Get Immediate Access - Monthly Membership
Modern ŌM is a community gathering with an unprecedented and unique collective of mentors and teachers
Daily Cushion Crawl Sessions with over 100+ teachers and experts
in their field to bring you actionable technique sand tools, plus answer all your questions.

Weekly Sharing Circles to stay connect
and accountable to follow through on your word.
​Weekly LIVE Journaling sessions to reflect and set intentions
connecting with your fellow ŌMies.
Regular Book Clubs, to discover thought leaders and
timeless classics and well as leading edge releases in the transformation space.


**BONUS Past Library of All Daily Cushion Sessions
**BONUS Member's Only Discounts to Masterclasses and Modern OM Products
**BONUS Intimate Community Group to chat and connect with other Omies!