Shungite RECHARGE TRAVEL Bundle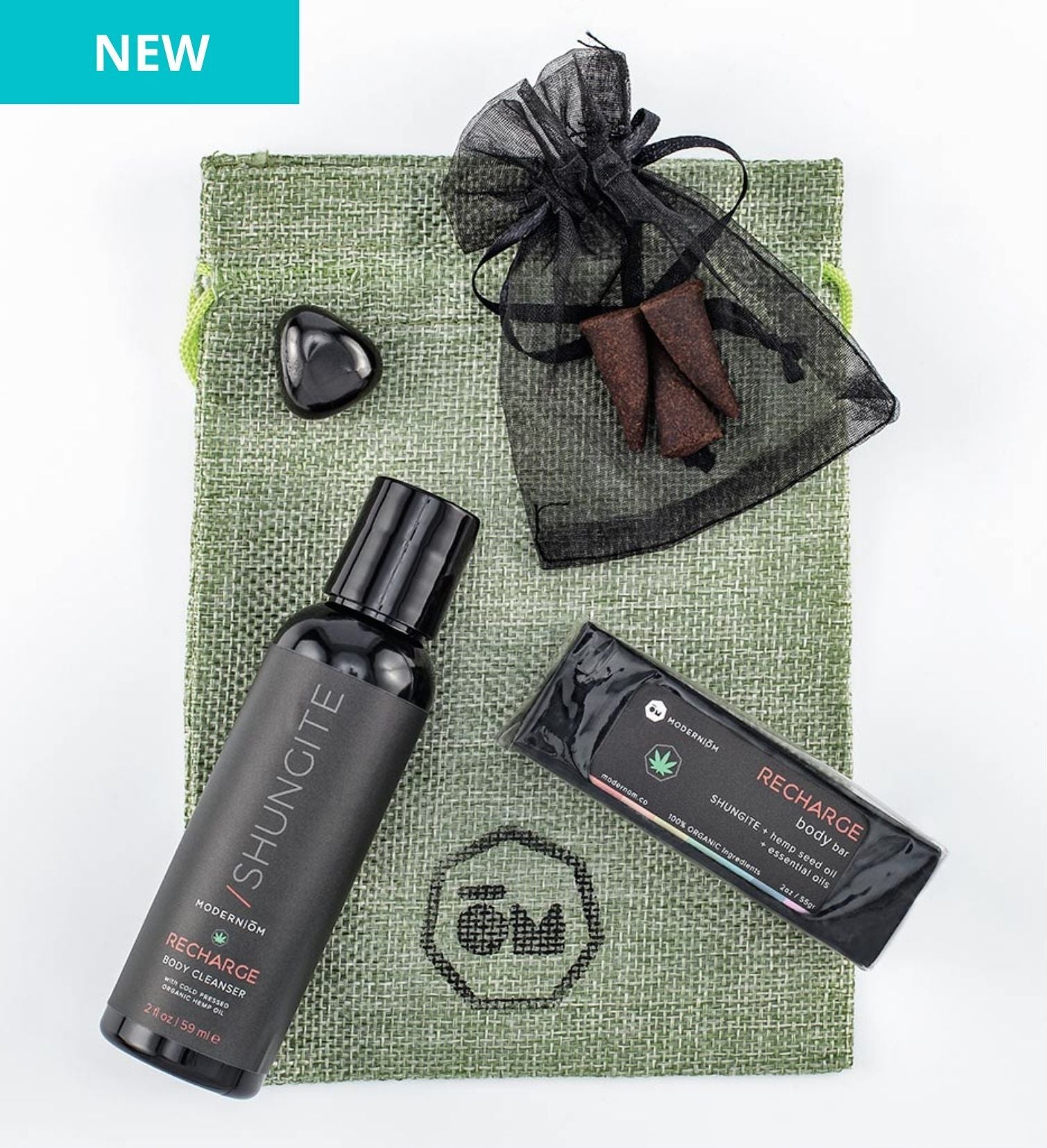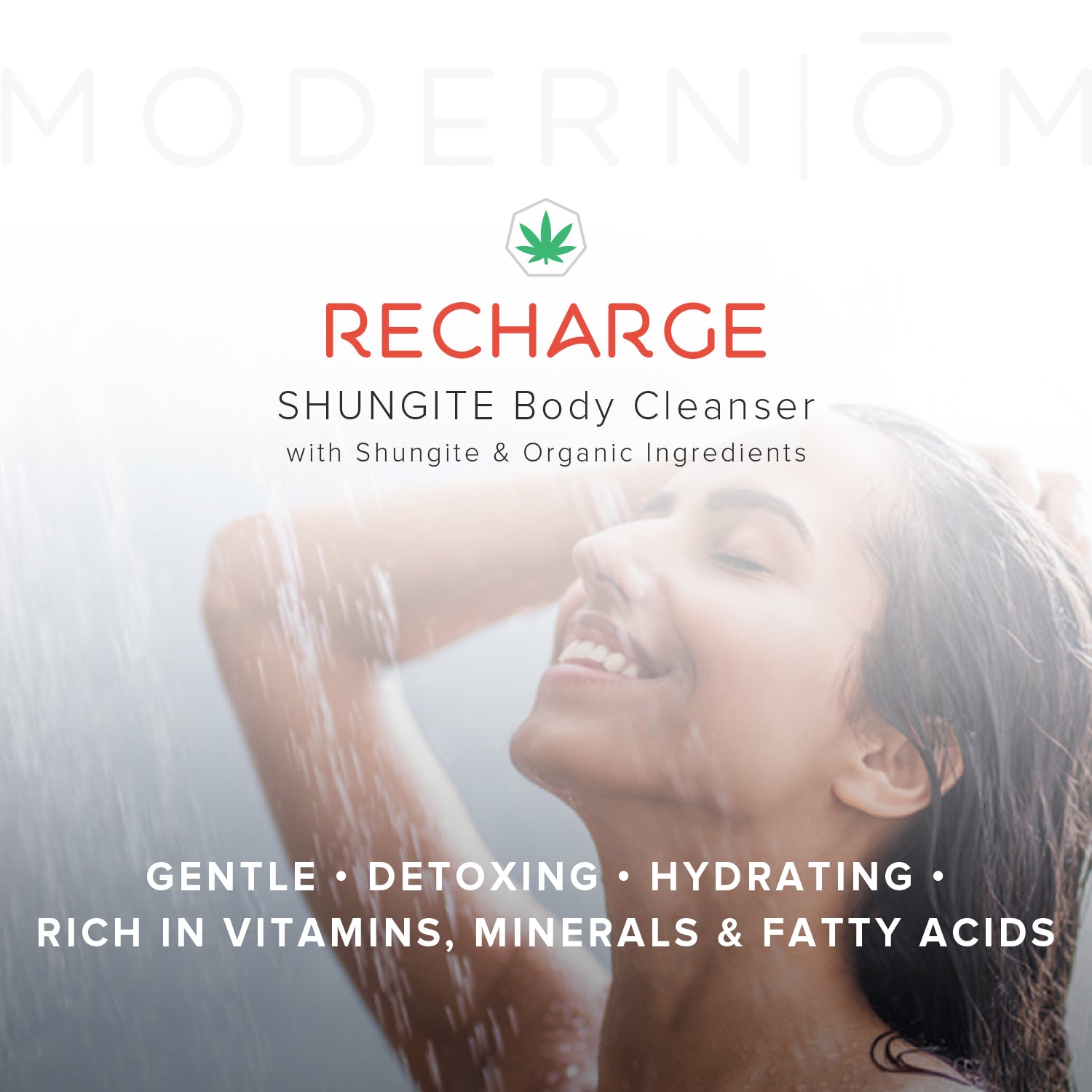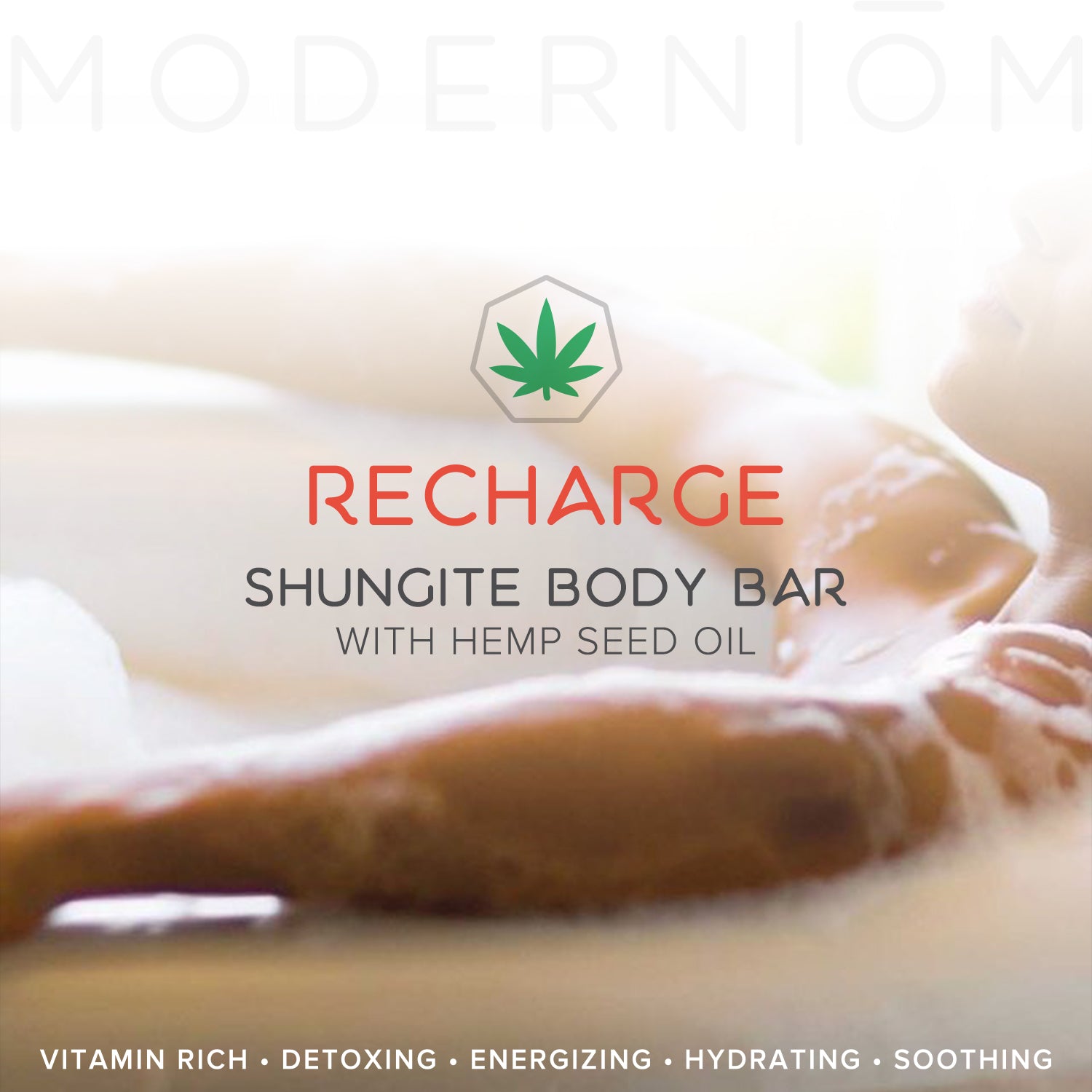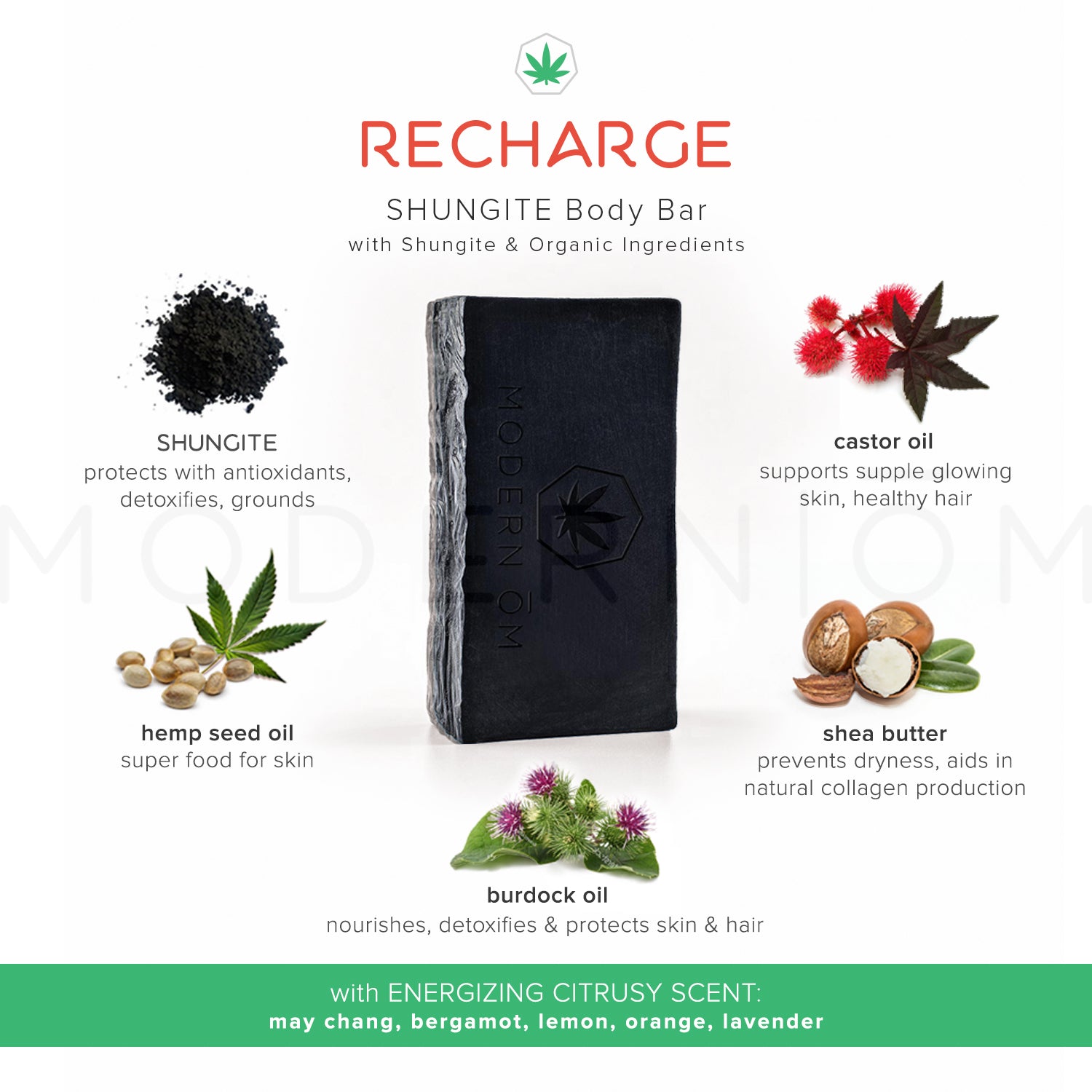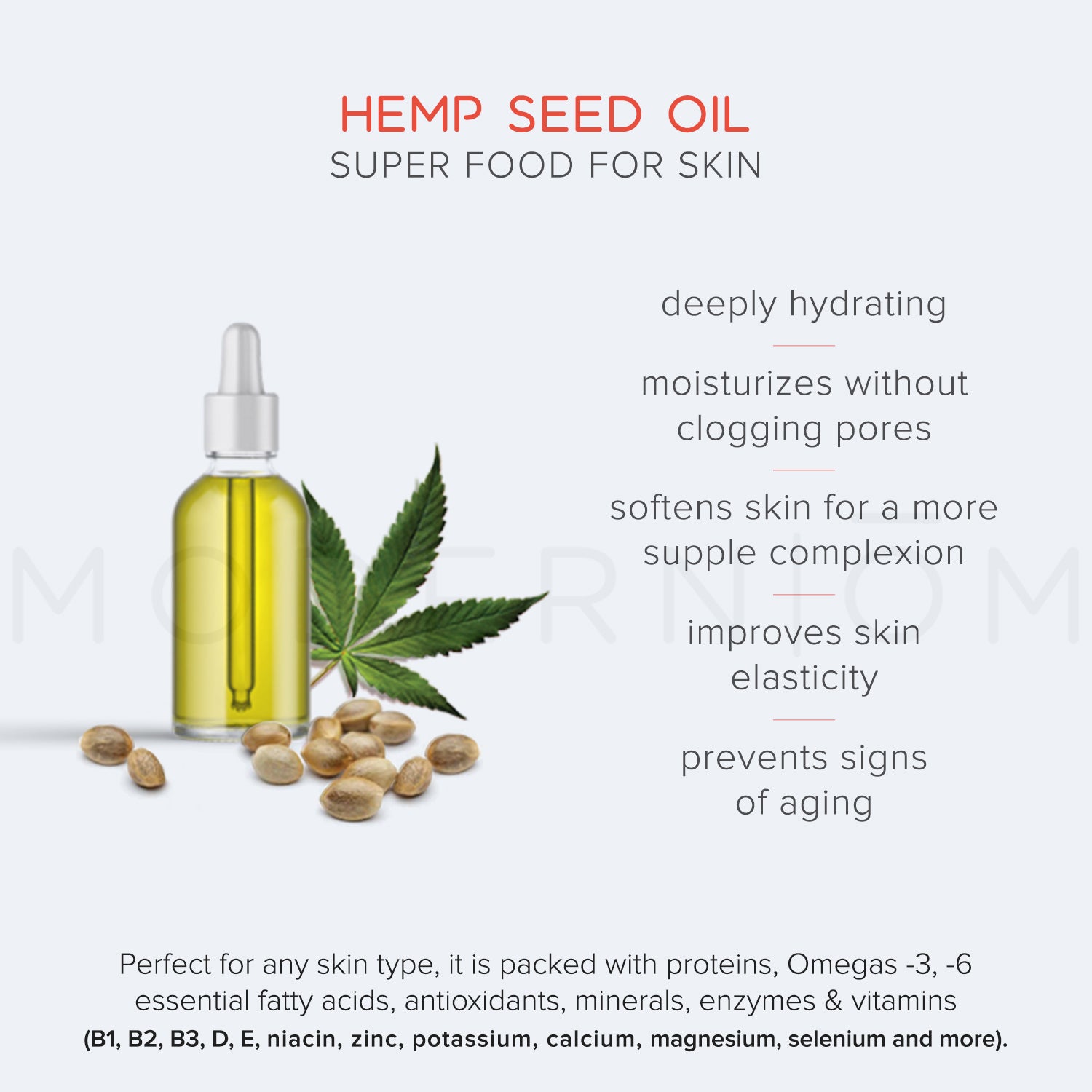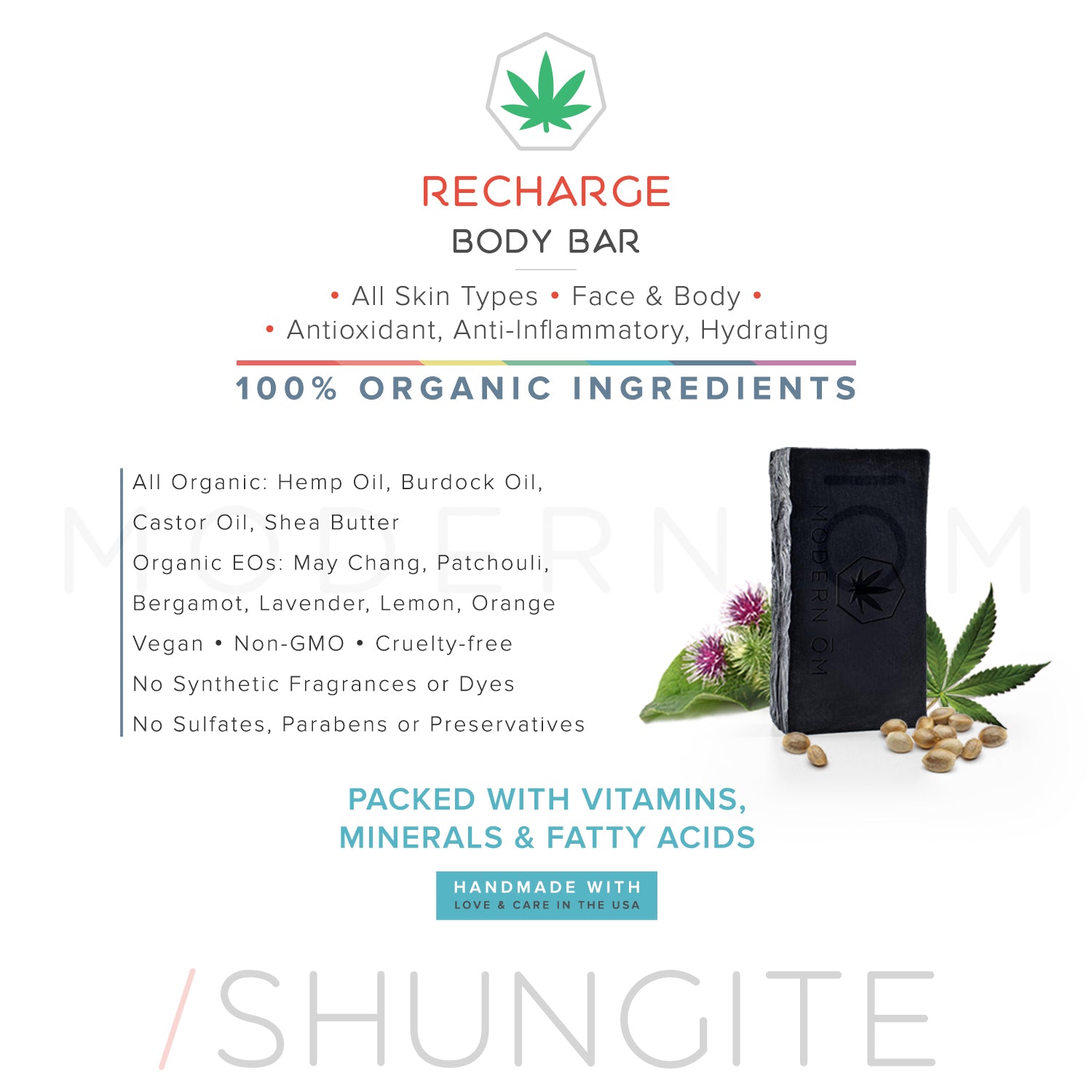 SHUNGITE SOAPS ARE VERY EFFECTIVE IN PREVENTING & CLEARING UP SKIN FROM  IRRITATION & RASHES
PURIFYING - ANTIBACTERIAL - ANTI-MICROBAL

This powerful bundle includes Shungite RECHARGE soap + Shungite RECHARGE cleanser + 3 Hemp incense cones + Shungite stone. All will protect you during your travels, whether you are taking a business trip, or enjoying a vacation.
Look, feel and smell great when traveling with our Shungite Travel RECHARGE Bundle. Put it in your carry-on, take it on your business trip, or carry it with you on a vacation.
Perfect for daily use, our unusual & finely balanced formula contains 100% organic skin loving ingredients and no fillers - Hemp, Castor & Burdock oils, Shea Butter, and plenty of Shungite powder for detoxifying, purifying & anti-aging action.

Organic Hemp Seed Oil, often called Super Food for Skin, is packed with essential fatty acids, minerals and vitamins to improve skin elasticity and prevent signs of aging.

Our RECHARGE Blend of May Chang, Patchouli, Orange, Lemon, Bergamot & Lavender organic essential oils is subtle, yet refreshing. Its uplifting aroma will awaken your senses, energize your body & clear your mind.
RECHARGE bar is gentle and non-irritating. It is formulated for face & body, has a light lather, rinses off clean (no residue) and leaves skin feeling soft and hydrated.
Learn more about SHUNGITE here, and about SHUNGITE soaps here.

HOW TO USE

Lather with water, massage onto face & body, rinse thoroughly.  Avoid contact with eyes.
To make your soap last longer, place it in a dish that drains and keep from getting wet between uses.
DETAILS
2oz Shungite Recharge Bar
2oz Shungite Recharge Cleanser
3 x Hemp Incense Cones

1 x Black Shungite Stone (approx. 3cm)
Comes in reusable burlap bag

Corresponding materials cards included
MATERIALS

Shungite Powder

Shungite has been used for centuries as water purifier, disinfectant and an overall healing mineral to reduce inflammation. Its numerous beneficial properties are scientifically explained by its unique chemical composition, and presence of Fullerenes.
Fullerenes, unique carbon-based molecules, are proven to have strong anti-microbial and antibacterial properties as well as an ability to neutralize free radicals and prevent cell damage.
- Organic Hemp Seed Oil - packed with Omegas -3, -6 essential fatty acids, antioxidants, vitamins & minerals (A, E, C, B1, B2, B3, niacin, zinc, potassium, calcium, selenium & more).
- Burdock Oil - rich in vitamins, minerals (calcium, zink, selenium, magnesium & more), micro- and macro-elements, and powerful antioxidants (phenolic acids, luteolin, quercetin ), it provides amazing healing benefits for both skin and hair.
- Castor Oil - for supple glowing skin, healthy scalp & shiny hair, rich in antioxidants, Vitamin E, proteins, ricinoleic acid, Omega 6 & 9, it boosts collagen production and acts as a natural humectant locking moisture in the skin.

- Shea Butter- contains oleic, stearic, palmitic, and linolenic acids that protect and nourish the skin to prevent drying and making it smooth and supple. It aids in natural collagen production for an anti-aging effect, and has strong anti-inflammatory properties.
100% ORGANIC Essential Oils
Orange - a general skin tonic great for collagen production (supports 2nd Chakra)

Lemon - a natural astringent to brightens dull skin and calm inflammation (supports Solar Plexus Chakra)
Bergamot - provides antibacterial and anti-inflammatory properties (Supports Solar Plexus & Heart Chakras)

Lavender - purifies, soothes & tones skin  (supports Heart, 3rd Eye & Crown Chakras)

- no sulfates, parabens or mineral oils (no Sodium Lauryl Sulfate, Sodium Lauryl Ether or MPG)
- 100% Natural, vegan, cruelty-free, color and preservative free. We do not use artificial fragrances
All our Shungite is sourced directly from Karelia, Russia and is tested for authenticity.
We respect the sacredness of Palo Santo and the environment. Our Palo Santo essential oil and smudging sticks are obtained from B. graveolens and are responsibly sourced in Peru and Ecuador from ethical vendors we trust. They respect the spirit of the tree and adhere to practices of sustainable harvesting only from trees that have naturally fallen.
This information is not intended to be a substitute for professional medical advice, diagnosis, or treatment.
Authenticity