Shungite PROTECT & HEAL Angel Set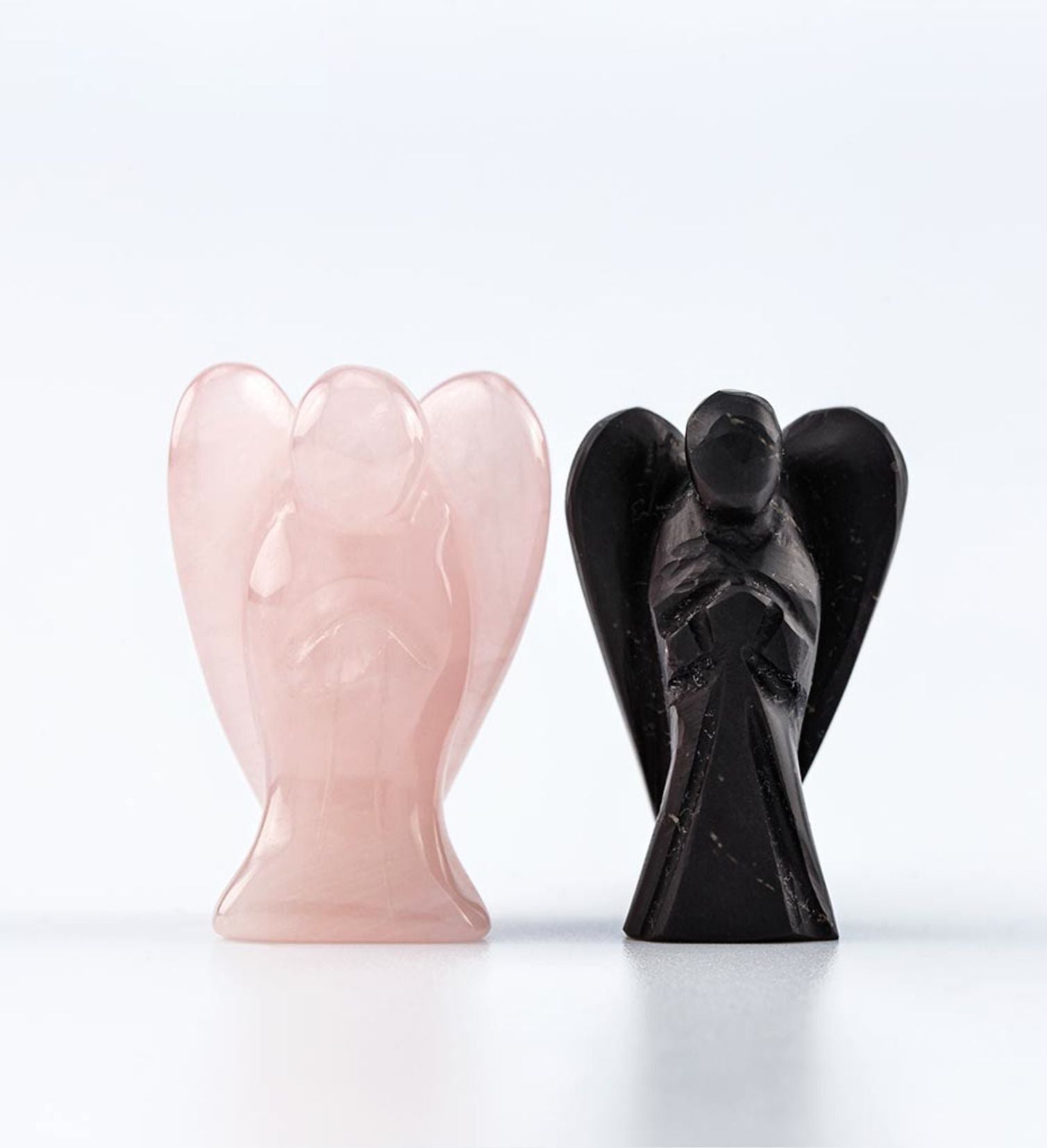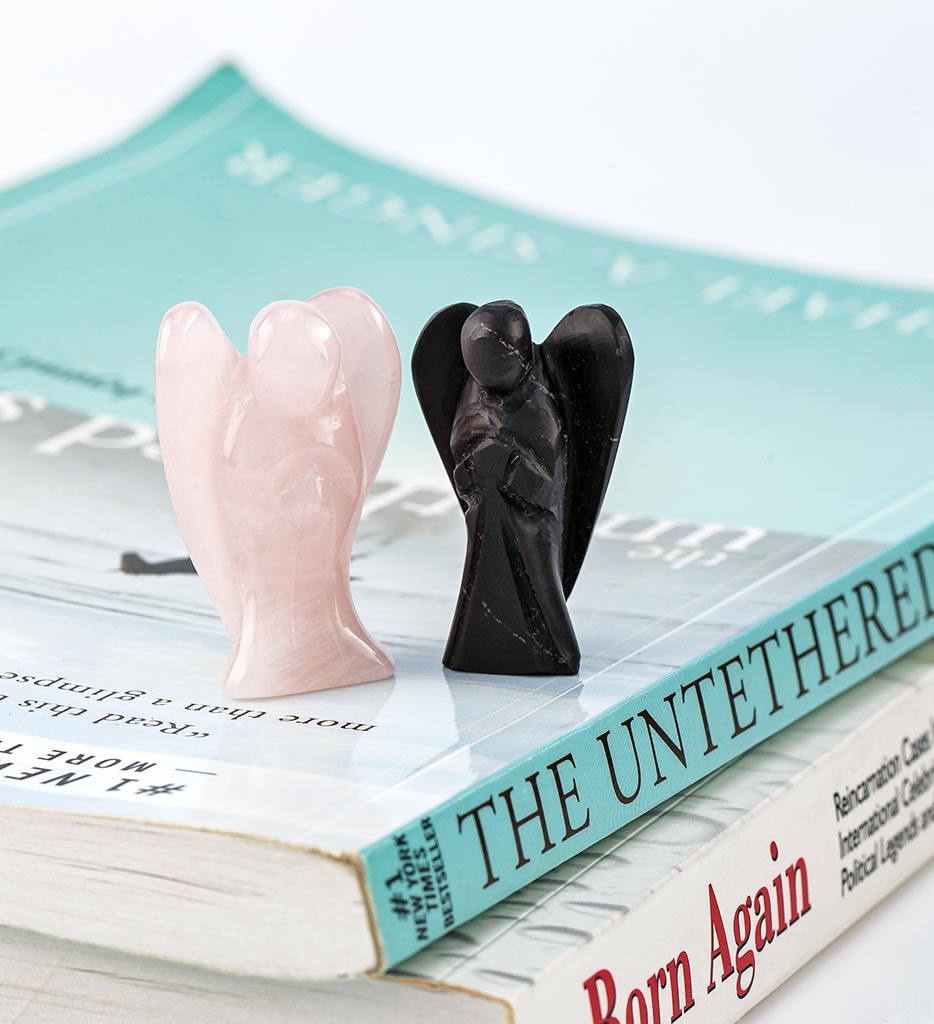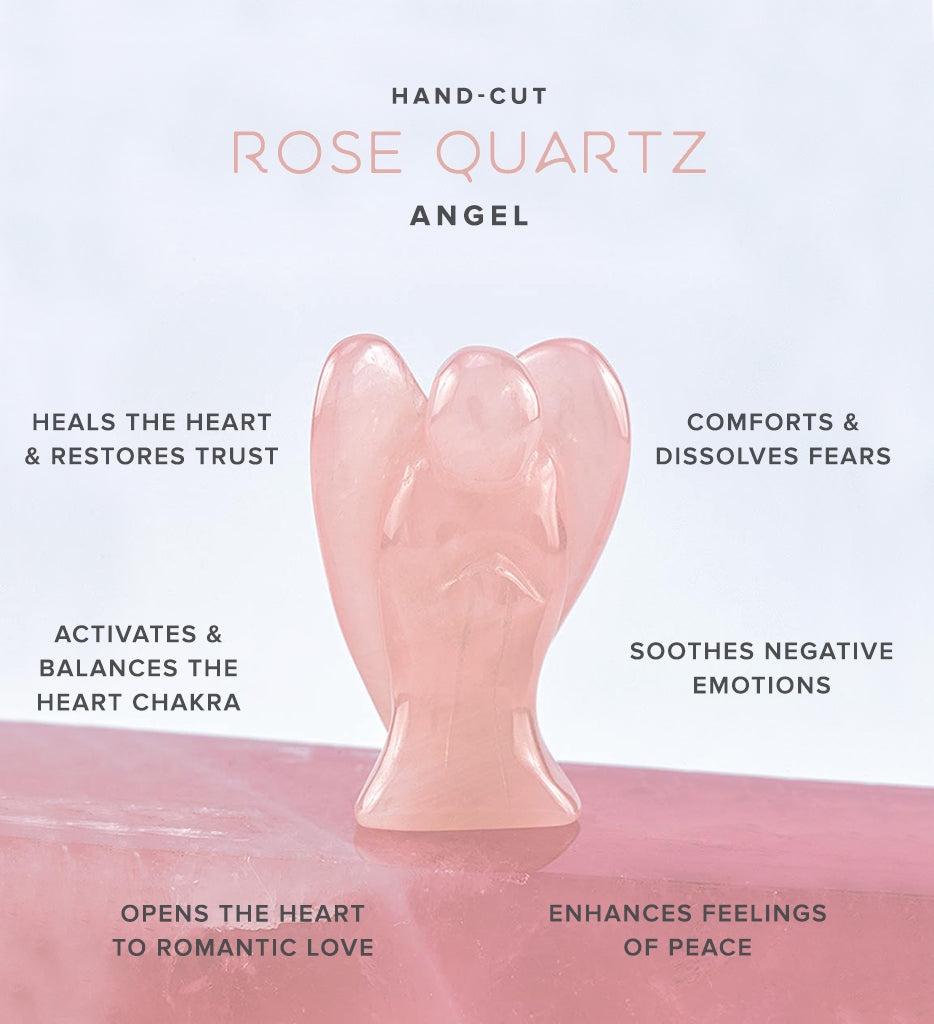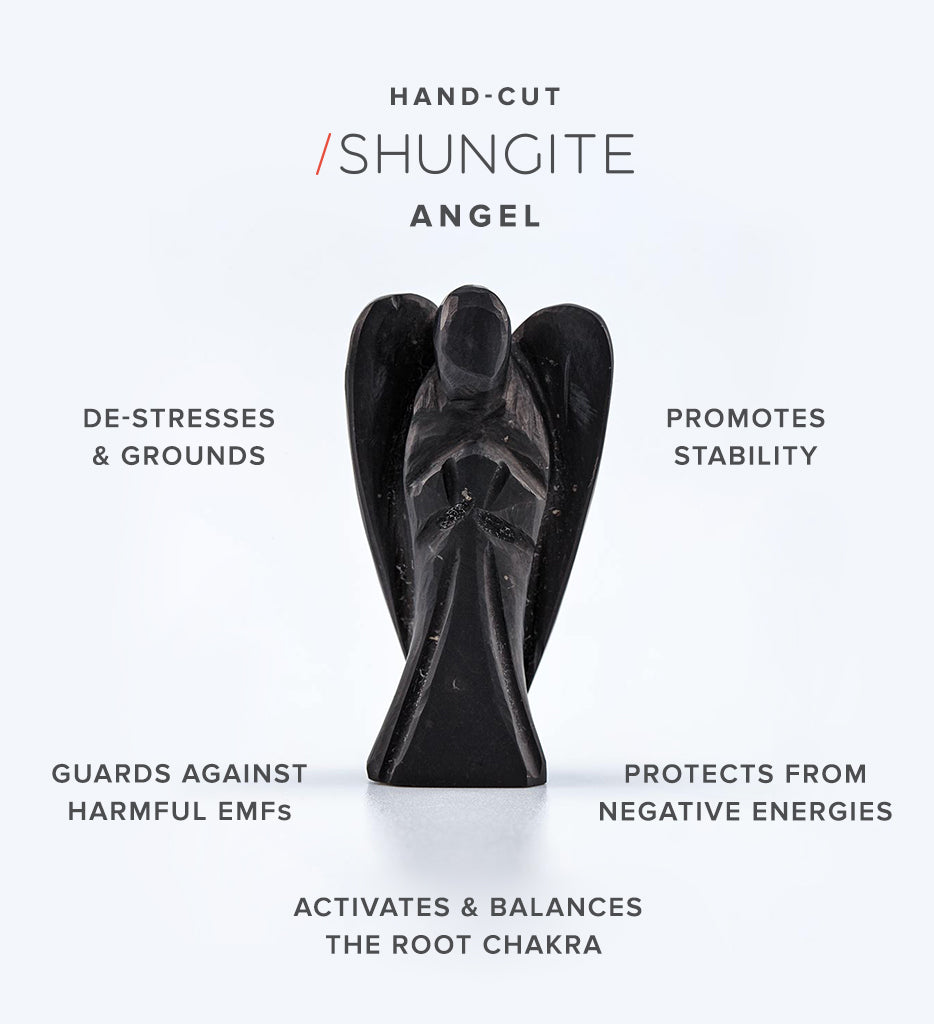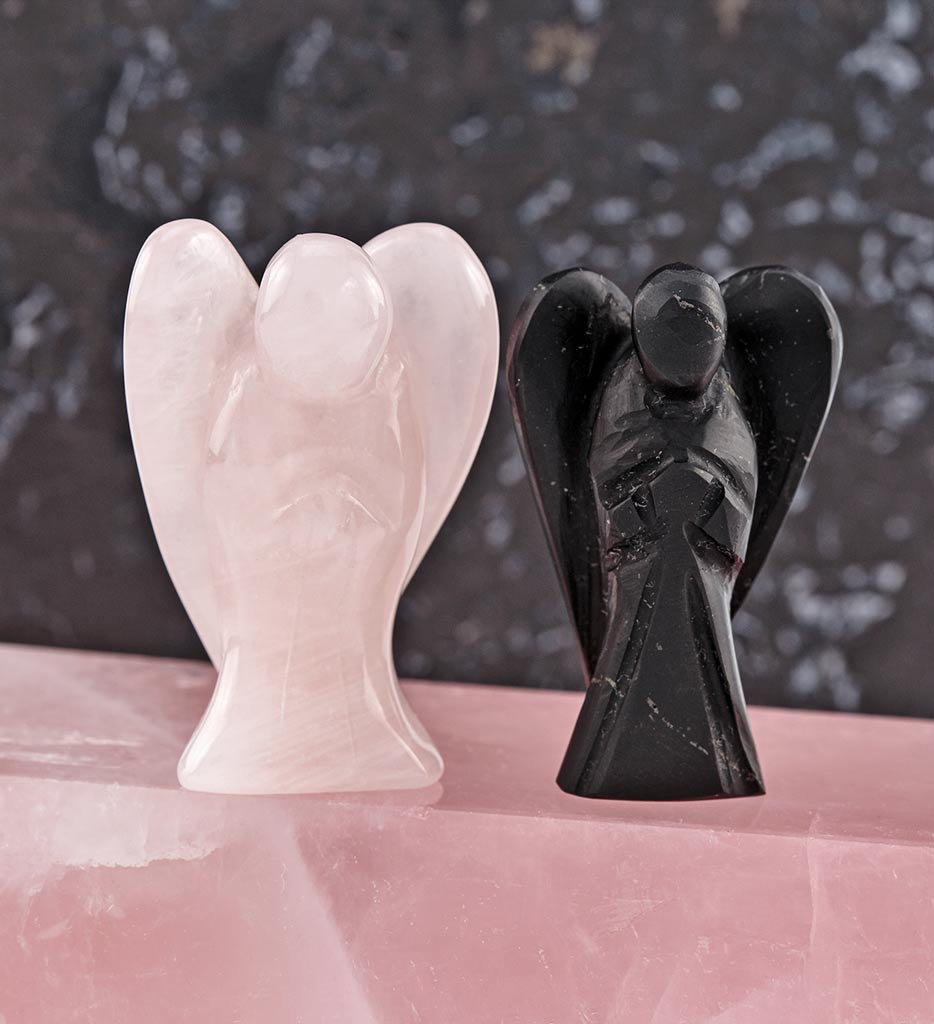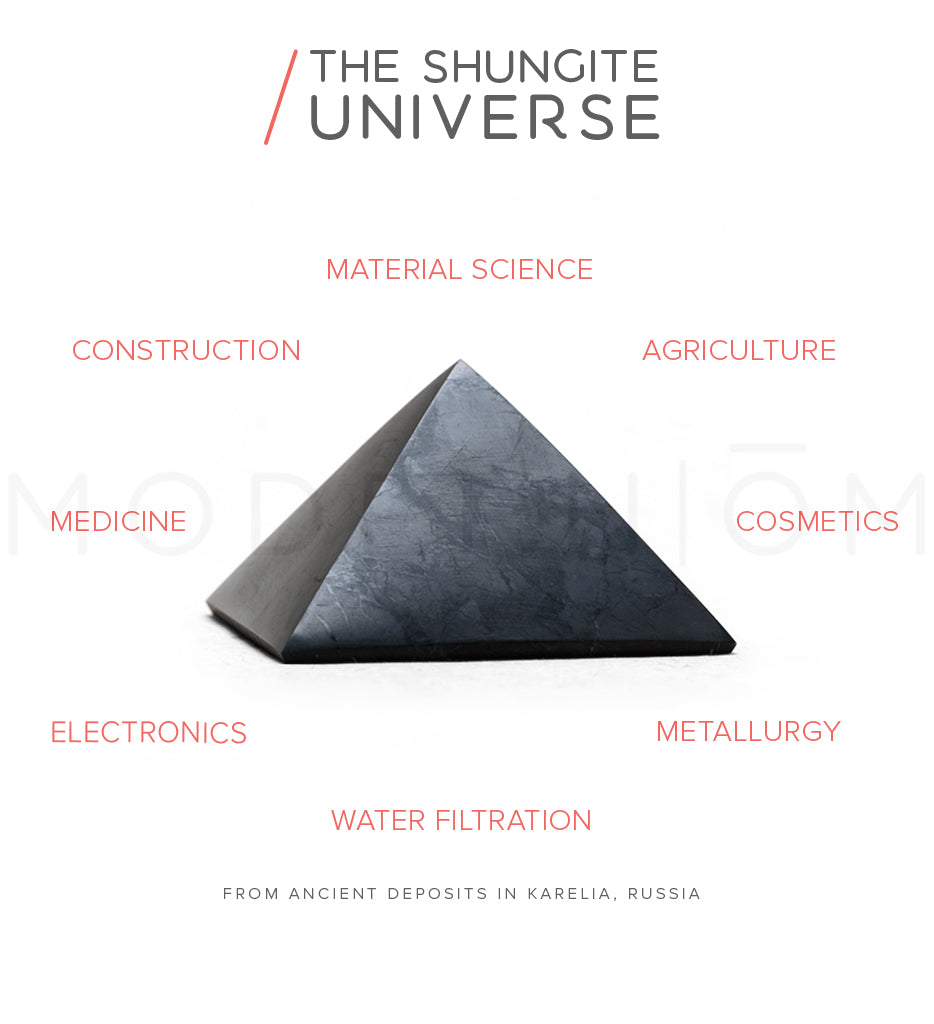 The word angel comes from the Greek word angelos, meaning "messenger." Angels are considered to be spiritual beings that deliver our prayers to Heaven and bring messages from Divine back to us.
Angels help us in time of need. They guide, help and protect us throughout life's journey. Shungite amplifies the protection angels give us.
The set includes: protective and grounding Shungite Angel + gentle and healing Rose Quartz Angel. Both will help you to feel less anxious and more protected, aware, balanced.
Shungite is a powerful Root Chakra mineral, it's protective qualities extend to guarding from the harmful EMF.
Rose Quartz activates Heart Chakra, dissolves fears and soothes negative emotions.
All Angels are hand-carved, each one is a little different. Shungite Angels are rare and only available on an intermittent basis.
Choose SMALL or MEDIUM.
Learn more about SHUNGITE here.
HOW TO USE

Keep  angels close to you no matter where you are -  carry in your pocket, put under your pillow or next to your bed,  place in your sacred space

Meditate with your angels: hold Shungite Angel in your left hand, Rose Quartz in your right hand, focus your intention on an issue you are working on, let go and meditate
DETAILS
SMALL Shungite Angel approx. 1.5" tall  x  0.75" wide

MEDIUM Shungite Angel approx. 2.0" tall  x  1.13" wide

SMALL Rose Quartz Angel approx. 1.5"H  x  1" W

MEDIUM Rose Quartz Angel approx. 2.0 tall x 1.2"wide

Comes in our Signature Gift Packaging
Includes corresponding materials cards
PROPERTIES

SHUNGITE:
grounds and protects from negative energies including EMF

promotes cells rejuvenation
balances and activates the lower Chakras
ROSE QUARTZ:
soothes negative emotions
dissolves fears, comforts & nourishes
enhances feelings of peace and compassion
heals the heart and restores trust
balances and activates the 4th Chakra
Shungite stone may have mineral inclusions (light streaks, spots or veins) that are primarily pyrite or iron oxide that naturally occurs in Shungite, making each piece uniquely yours.
This information is not intended to be a substitute for professional medical advice, diagnosis, or treatment.
AUTHENTICITY
All our Shungite is sourced directly from Karelia, Russia and is tested for authenticity.